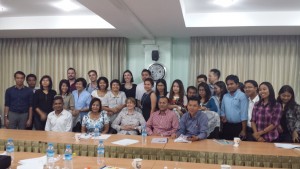 Within the education programme, the ESOMAR Foundation is organising a 5 day training alongside MMSA (Myanmar Marketing Services Association.) Free to the delegates, the idea behind this 5 day training bonanza is to share knowledge from all over the world with local researchers living and working in Myanmar. The programme will run from 13 – 15 August 2014 and focuses on:
Introduction to Market Research and Proposal Writing

The different types of MR (desk research, audits, panels, ad hoc, qual, quant etc)
The future of the MR Industry
Ethics and professionalism
Proposal writing, understanding and challenging the brief.
Quantitative Research
The different data collection approaches
Different types of Quant Research (Ad Testing, U&A, Customer Satisfaction etc)
Questionnaire design
Basic Statistics
Sampling and Weighting
Sample size, significance testing
Strategic Analysis, Turning Data into Insights, Adding Value
Strategic Analysis
Generating Inights
Presentations and Report Writing
VOLUNTEER TRAINERS
The MMSA and ESOMAR Foundation would like to thank our trainer volunteers for giving their time and energy to help researchers in Myanmar. Your generosity is truly appreciated.
Phyllis Macfarlane
Phyllis Macfarlane is a life-long market researcher – starting her career as an assistant statistician, and culminating as Managing Director of GfK NOP, one of the UK's largest market research companies. Her key interests as a researcher are international, B2B, market measurement and customer satisfaction studies. As a manager, it is people development. Phyllis is currently Project Manager for GfK's CSR initiative 'Training in Africa' – where the GfK Verein is funding masters degrees and interviewer training to improve the quality of market research in Africa. This initiative will be rolled out to China and other emerging markets beginning in 2014.
Anna Thomas
Anna Thomas is MD and Director of Nunwood Australia. Anna has worked for nearly 20 years in strategic market research, is a trained coach and workshop facilitator and is highly experienced in using customer information – both qual and quant – to bring about business transformation. Since 2010, Anna has led the development and growth of Nunwood's Asia Pacific business, which includes a team of consultants, researchers, analytics specialists and technical experts.  A Cambridge graduate, Anna is a member of ESOMAR, the British Psychological Society and the Market Research Society. She speaks French and Spanish, holds a postgraduate certificate in Law, and has spoken about applied strategic research and method innovation at conferences in Europe, UK, North America and Australia.
 Anagha Kanhere
Anagha has over 8 years of market research & statistical consultation experience across a variety of sectors including Banking, Insurance, FMCG, Education, Travel, Retail, Telecoms and Utilities. She has extensive experience of working with global brands, on market research studies including multi-sector Customer experience Management programs, U & A studies, New Product Development, ROI modelling and Segmentation. She holds postgraduate degrees in Social Statistics and International Marketing Management.
Silvina Neder
Argentinian born, Silvina's market research career began in 1991 as a quantitative researcher in British American Tobacco (BAT). In 1997, she obtained her second postgraduate degree: Master in Business Administration. Her enthusiasm as an insights finder, lead her to move to the agency side: In 2005, she founded NEDER Statistics & Insights, an agency aimed at designing the best study for each client and at implementing it with the highest quality standards. Since then, Neder's client portfolio includes the most renowned fast moving consumer goods and services companies such as Coca Cola, Bimbo, Master Card, Hewlett Packard, Movistar, Telefonica, Repsol, General Motors, Akzo Nobel, Lilly, Pfizer, amongst others. At the moment, she is based in Spain, helping organisations from different countries to research in Latin America.