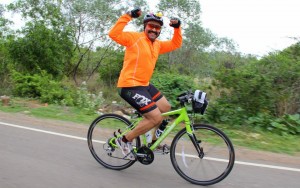 A word from Pravin Shekar…
If I am not for myself, who else is for me?
If I am for myself alone, what am I for?
These two questions form the basis of my existence.These two questions resonate very much for our industry, all of us, and those who are put in harm's way in the line of duty.
The ESOMAR Foundation has been founded to help researchers in need. Assistance includes professional development, training, technology and money!
The Foundation is here to connect market researchers to each other, and it's also aimed to help market research make a difference in the world. From exciting plans to support local charities working in the cities we attend our fantastic ESOMAR events, to helping those wanting a future in our industry to get through the door, ESOMAR Foundation has to be OUR foundation and it can only work with OUR input!
It is our job as custodians of the industry to stand together, in support of the wider community. To do our bit to secure our future and that of future researchers, insight managers, brand creators, data scientists.
Some numbers to start with:
1000, 8, 1, x
1000 Kms
8 Days
1 Cyclist
A lot of supporters
I will be cycling 1000 Kilometers in 8 days across the plains and mountains of my home state, TamilNadu, India.
I believe in the cause of the ESOMAR Foundation and am doing this cyclothon to raise awareness about the Foundation and to collect donations and pledges.
I ask you to spread the word about the Foundation and reach out to the bottom of your hearts (and your wallets .
Donors can donate:
Money (for example: €0,10 or more for each kilometer covered, or €5 for 1 km… your choice!)
Time (pledges to donate one week slots for training/workshops in remote areas).
You can submit your pledges to the Foundation below, or contribute as little or as much as you can in money terms!
Think about it…: 1000 Kms on my rather voluminous butt..on segments that have no roads..on mountains that are aimed at the sky..and 8 days of non-stop pedaling.
I hope that kindles some emotion that makes you dip into your pockets – This is the Season of Giving
All for one and one for All – ESOMAR Foundation.
Pravin