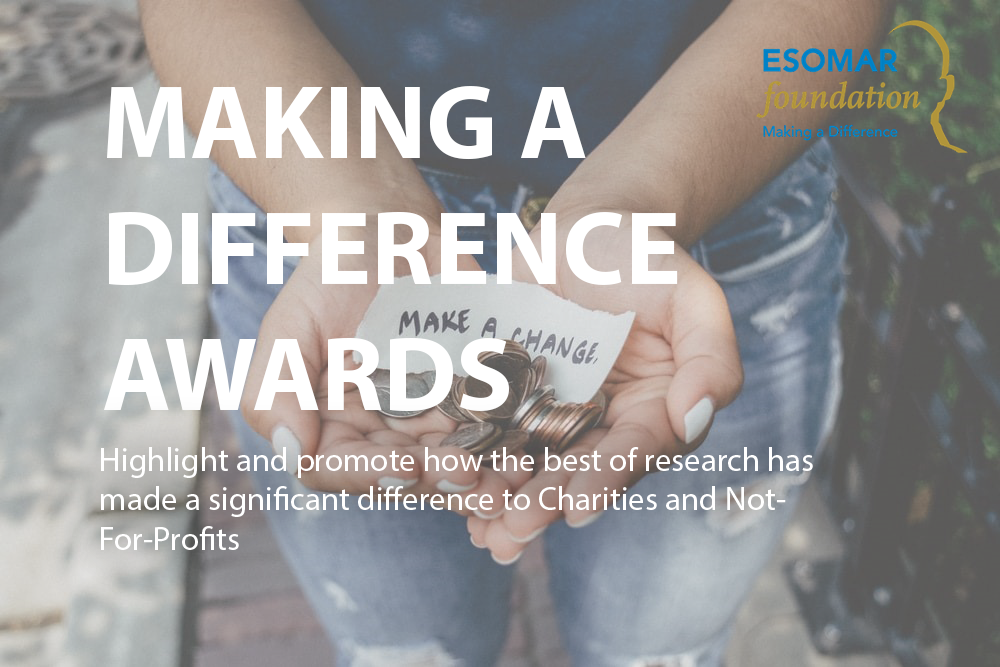 The ESOMAR Foundation's annual Making a Difference Awards are now open for entries. Our annual Awards are a chance to applaud and reward the best examples of Market Research making a difference to the world's Charities.
Through these awards, the ESOMAR Foundation aims to raise awareness of the impact of great research on the work of Charities, by offering a platform for these stories to be heard.
All Charity case studies, whether they are international, national or local and in any sector, are encouraged to apply.
WHY YOU SHOULD ENTER THE COMPETITION:
It encourages excellence, educates and motivates the industry to produce great research on and for Charities
The last 2 years have been a particularly difficult time to conduct research – especially for Charities – tell us how you responded to the challenge and what you learnt
Share your work for mutually beneficial inspiration and learning
The competition will highlight 'Making a Difference' case studies to increase the impact of market research in building a better world!
Your work will be promoted throughout the year on all our platforms
Win a category and an award
Winners get recognised at the ESOMAR Congress to be held in Toronto on 18-21 September, the biggest global event in the market research industry
It's a fun, challenging, and exciting way to share your work.
THINGS YOU SHOULD KNOW:
All Charity cases are welcome whether they are international, national or local!
You may showcase any innovative and insightful research work
There is no limit of entries per author
Each case-study must have a separate application
If you'd like help from a research expert writing your submission, we can find a willing volunteer in your country
LOOKING FOR INSPIRATION?
Check out the previous Making a Difference Competition winners
IMPORTANT DEADLINES:
17 June – Deadline for submissions – DEADLINE EXTENDED! -> 6 July
18 July – Announcement to the winners
September – awards presented at the ESOMAR Congress