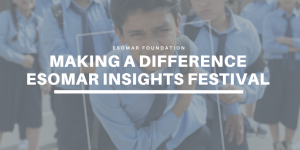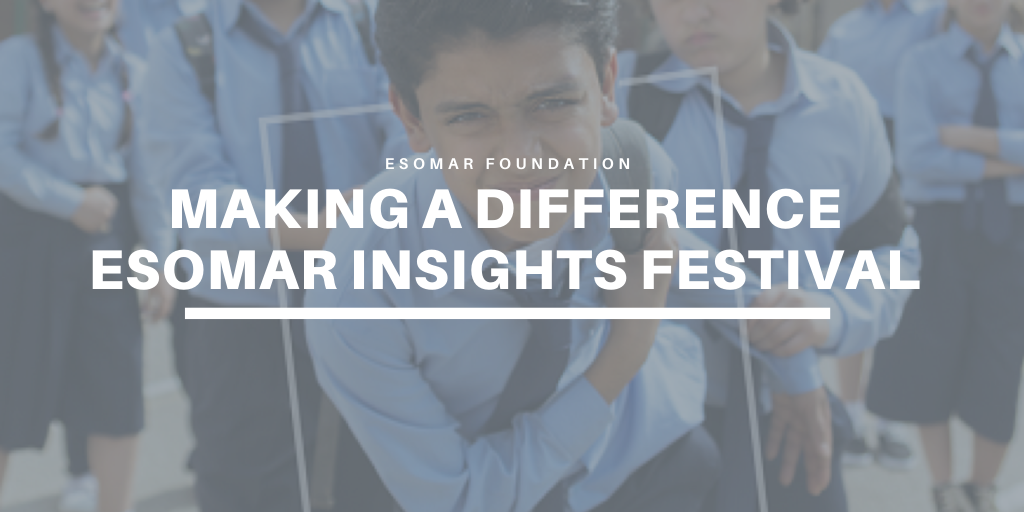 From Monday almost 5000 market researchers from all corners of the world have taken the virtual environment and registered for ESOMAR's annual industry get-together. In 2020, the COVID-19 pandemic has had a huge impact on people's lives and societies across the world and the ESOMAR Congress made no exception. The physical connections were replaced with digital ones under the umbrella of the Insights Festival, a truly global data and insights summit.
The winners of our third edition of the Making a Difference Awards will take to the stage to showcase how the best of research has made a significant difference to Not-For-Profits. The session will include 3 different presentations:
How Market Research Created Words and Changed Worlds with Mariam Ghabrial, Client Engagement Manager, [Marketeers Research] and Jonathan  Crickx [UNICEF]
Mariam Ghabrial has been working at Marketeers Research for the past five years, believing in the power of research, providing consultations that are pillared with strong market research to help empower businesses. Before treading into the world of market research, she explored the advertising industry. An experience that contributed to her passion for communication which helped her navigate better through the next steps in life.
Her words: "Adding my deep interest in psychology to the mix, it all comes back to the magnificence of the human mind and I believe finding the best way to communicate is a quest I embarked on, leading me to one of the accomplishments I'm most proud of … Utilising research to breakthrough cultural barriers and derive powerful communication messages that makes a true difference in the world, which I am looking forward to sharing with you today."
Jonathan  Crickx is the Chief of Communication for UNICEF Egypt since July 2017.
"I am covering all aspects of communication and advocacy, from press releases to field visits, documentation of programme activities and social media. One of the most interesting aspect of this is the social and behavioural change campaigns we are leading in Egypt. Before that, I held similar position for the European Union in Palestine and Afghanistan. In a previous life, I was a journalist for the Belgian public TV news channel RTBF for 11 years. I am married and the lucky father of a wonderful 8-month-old boy. I enjoy listening to music, kitesurfing and diving."
Pro Bono Research for Light of Life Trust: Providing earning capability and opportunity to rural women, Indu Upadhyay [Ipsos] India; Sheela Iyer [Light of Life Trust (LOLT)] Indi
Indu Upadhyay is a graduate in social anthropology and psychology. With a strong background in the study of human culture and behaviour, she is passionate about applying a people-centered approach to solving real world problems. Indu has a penchant for statistical research coupled with two years worth of experience in the market research industry. Her paper was featured as well in the local Research Got Talent competition in India.
Sheela Iyer has a major in Physics and a Post Graduation in Computer Software and Applications and was working in the software industry when the bug to do something meaningful stung and she switched to the development sector. It's been over 5 years since she has been working with the Non profit, Light of Life Trust and is completely addicted to the feeling of contributing to the work to impact and transform lives for the common good of society.
Public Perceptions of Schizophrenia with Çigdem Penn [Xsights], Elif Elkin [Abdi İbrahim Otsuka İlaç] and Haldun Soygur, MD, PhD [Federation of Schizophrenia Associations]
Çiğdem Penn is an experienced researcher with twenty years of expertise in both quantitative and qualitative research methodologies. She is well versed in both high-profile and international projects. A graduate of the London School of Economics and Political Science, Çiğdem started her career in management consulting and focused on change management and resistance to change. She then moved into market research and worked in two of the largest agencies in the UK. In 2006, Çiğdem started her own research consultancy, Xsights in London and opened the Turkish branch in 2010. She has been delivering results-driven research and consultancy projects ever since, both in Turkey and internationally.
Çiğdem is a member of ESOMAR, the Market Research Society and the Turkish Researchers Association and is the founding president of the Turkey and Nepal Business Council. Çiğdem has lived in Kathmandu for three years consulting with the United Nations, is now based in Turkey. Çiğdem Penn, a mother of three, is a frequent public speaker and an occasional columnist. She speaks French and English fluently.
Elif Elkin was born in İstanbul and graduated from Robert College and from the Chemistry Department of the Bosphorous University. She had her MBA at the Yeditepe University. From 2001 she held various positions in sales and marketing departments in Deva, one of the top 10 pharmaceutical companies in Turkey. In 2007 she was appointed General Manager and continued this role parallel to her position of Executive Vice President of Marketing & Sales in Deva until she joined Abdi İbrahim in 2009.
Elif has been serving as the General Manager of Abdi İbrahim Otsuka Pharmaceutical since January 2017. She is 40 years old, married and has 3 children named Bora, Nehir and Mira.
Prof. Haldun Soygur is the Chairman of the Board of the Federation of Schizophrenia Associations, of which he is also a founder. Believing in the value of close cooperation between service providers and service users in the provision of mental health services; From the beginning, he worked in the organisation of schizophrenia patients, their families and mental health professionals all together. He ensured the establishment of the Blue Horse Cafe (Mavi At Kafe) where schizophrenia patients work. He is still actively engaged in the correct recognition of schizophrenia in society, the fight against stigma and discrimination, and to offer the best possible treatment and rehabilitation opportunities for patients with schizophrenia.
During his tenure as the Clinic Chief at the Oncology Training and Research Hospital Psychiatry Clinic, where he founded and worked for ten years, he pioneered the establishment of the psycho-oncology discipline, consultation-liaison psychiatry services and the provision of mental health services for oncology staff. He served as the Head of Psychosocial Support Unit of the Cancer Advisory Board of the Ministry of Health for two years. He published as an editor Schizophrenia and Other Psychotic Disorders, Schizophrenia Treatment Guide, Basic Psychopharmacology. For the community, he published the books of Schizophrenia: Voices, Faces, Stories and Sleepless Children: Schizophrenia Articles.
If you are registered at the Insights Festival make sure you do not miss the the Making a Difference sessions.