In 2014, Turkish Federation of Professional Associations of Publishers (YAYFED) decided to make a research to understand the level of pirated books in Turkey and the reasons and motivations behind it and they consulted Yöntem Research Consultancy. We designed a 360O research model and decided to not only interview the public, but also to gain insight from sector professionals and key opinion leaders in order to develop the right strategies to increase awareness about copyright and intellectual property right concepts.
We mainly focused on the following topics among the public:
·       Pirated product purchase tendency in different areas/sectors (clothing, computer games, music etc.)
·       Book reading habits
·       Place and extent of pirated book
·       Future of e-book
We carried out the study using quantitative face-to-face paper and pencil interview technique with the public, university students, key opinion leaders and stakeholders. In order to double check the quantitative finding and to reach an industry consensus, we also conducted qualitative one-to-one in-depth delphi interviews with sector professionals from the book industry.
Sample sizes and sampling techniques were as follows for each target group:
·      Public: n=523; household quota sampling with random route.
·      University students: n=154; household quota sampling with random route.
·       Key opinion leaders and stakeholders: n=113; sampling from a database composed of list provided by YAYFED, a list formed by Yöntem with desk research and also free find.
·       Sector professionals: 7 in-depth delphi interviews with experts from a list of media, General Directorate of Security, NGOs/NPOs, state institutions, academicians, authors and translators provided by YAYFED.
In-depth delphi interviews helped us to deep-dive in book pirating concept from the industry experts' point of view and so to understand and estimate the size of book pirating in Turkey accordingly and to reach a consensus about pirated book among the main players of the industry.
We analysed the findings using both qualitative and quantitative analysis techniques. Statistical significance test was applied for all quantitative findings
Together with YAYFED, we have organised a full-day workshop in a central hotel with the participation of leading authors, journalists, translators, publishing company representatives and libraries. The strategic project consultant was also present in the workshop. We have presented the research results to the audience and then evaluated the findings together.
Together with the strategy consultant we prepared a strategy report after the workshop and shared it with the Ministry of Culture and Tourism General Directorate of Copyright, General Secretariat of the Higher Education Council, and the General Secretariat of the High Council of Judges and Prosecutors.
General Directorate of Copyright included this report in the 2015-2019 Strategic Report of the Ministry of Culture and Tourism.
Coming to some key finding from the study, it was interesting to see that people first started reading pirated books as young as 15-16 years old and mainly due to economical reasons (Graph-1).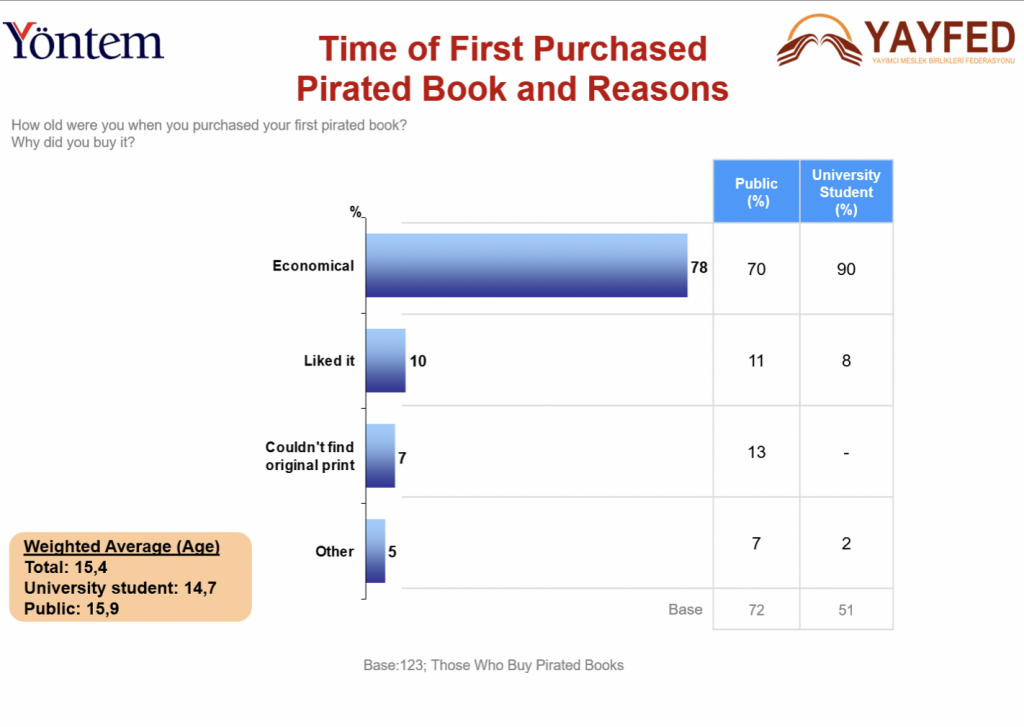 Seeing that pirated book reading habits start from teen ages, officials of the Ministry of Education who participated in the strategic report preparation phase, stated that more awareness should be raised and that they would support this among students by including illustrative tools such as logos and graphics in textbooks and in the Fatih Project; a project of the Turkish government which seeks to integrate state-of-the-art computer technology into Turkey's public education system.
Another interesting finding from the research was that people tend to buy (or claim so) pirated books less than other pirated or counterfeit/imitation products like DVDs, computer/console games/softwares, music CDs, clothing/apparel etc. (Graph-2).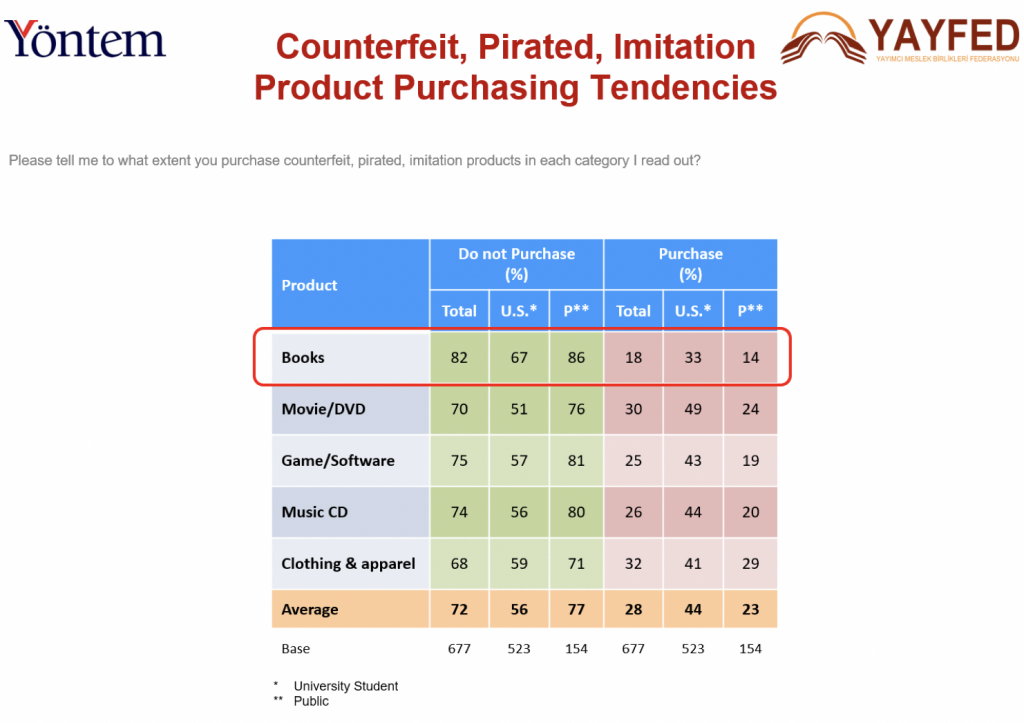 This finding addressed us that pirating in books was either concealed more by the respondents or they were not aware of different types of pirating in book. It was understood that a special attention should be made in fighting pirated book and a more focused public communication language should be used.
The research also revealed that almost 2 of every 3 people do not exactly know what copyright is (Graph-3)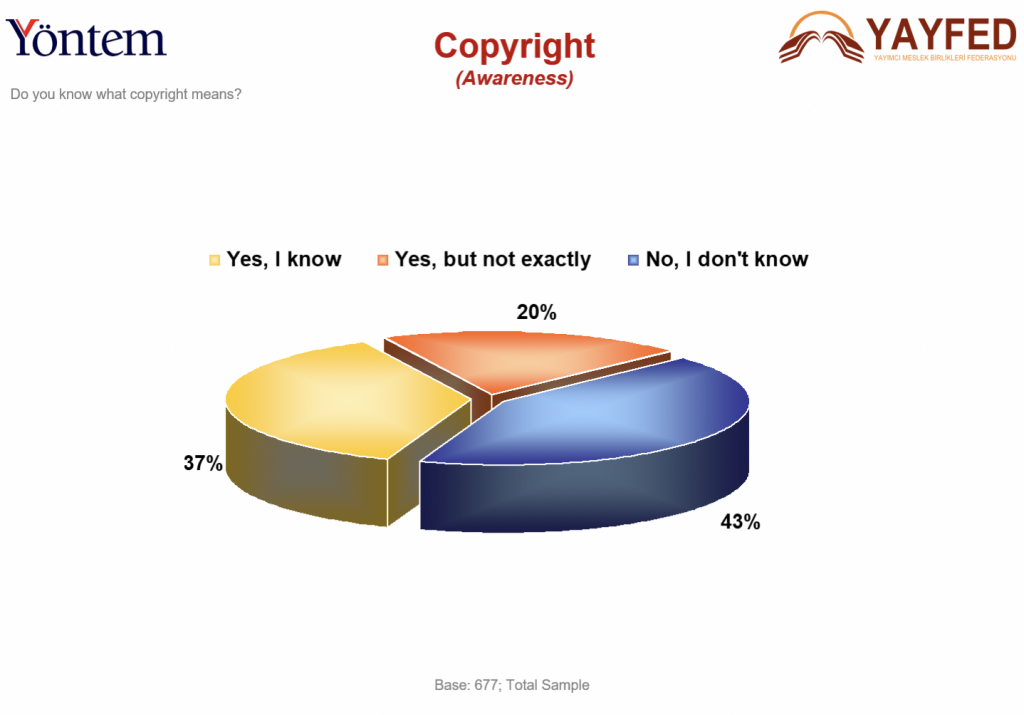 YAYFED has also shared the research findings with Turkish Patent and Trademark Office and they decided to take pirated book issue together with brand and patent counterfeiting issue.
With the action plan prepared based on our research findings, an increase of 47% was achieved in the number of pirated books busted in the second 6 months of 2014.
By the end of 2014, YAYFED announced that with the strategies developed and actions taken, within a period of 5-months, a significant success was achieved as pirated book production decreased by 70%.
The Pirate Book Research was given the Silver Owl Award, under the "Social Owl" category, in 3rd Owl Awards Contest organized by Turkish Researchers' Association (TUAD) in 2015. This success also drew attraction at international level and the award success of our research project was also announced by The International Federation of Reproduction Rights Organisations (IFRRO):