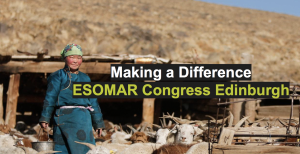 From Monday over a thousand market researchers from all over the world arrived in Edinburgh for ESOMAR's annual industry get-together. The only truly global data and insights summit.
The same as last year, ESOMAR Foundation has dedicated an entire session in the program on Tuesday 10th of September. The winners of our second edition Making a Difference Competition will take to the stage to showcase how the best of research has made a significant difference to Not-For-Profits.
The session will feature:
Saptarshi Guha and Surya AV from Kantar India presenting Towards an open-defecation-free, clean India
Saptarshi possesses a rich experience in evaluation & monitoring of several projects/studies in the areas of Population, Health, Nutrition, Education, Women and child development and has an expertise in delivering research values in the domain of Water & Sanitation in rural India. He has a combining background in liaising with external clients with hands-on experience in social research, offering insights to the experts of development sectors and commended for being an impressive communicator with strong work ethics.
Surya as Kantar India CEO leads a team of multi-country market researchers who generate high-quality evidence on which various decisions related to marketing and corporate strategy are based.  His team informs program strategy, monitors the performance of the programs and also measures the impact of various social marketing activities for clients like Unicef, World Bank, UN Organisations, Government of India, etc.  He has been one of the key researchers on various pulse polio studies conducted by Unicef in their efforts to successfully eradicate polio.  He is a pioneer in behaviour surveillance surveys in India.
Anu Mohammed and Chibuike Utaka from BBC Media Action Nigeria with "Social media first: leveraging digital platforms to strengthen the political participation of Nigerian youth" case study.
Anu Mohammed is the head of Research and Learning at BBC Media Action in Nigeria, which is the international charity of the BBC that uses media to inform, connect and empower people around the world. She has significant experience, spanning over a decade, conducting and managing qualitative and quantitative research projects in Nigeria's development sector from design to implementation and data analysis leading to the delivery of impactful development projects. 
Chibuike Utaka is a content maker and editorial leader. He currently works with BBC Media Action Nigeria as Senior Producer where he leads a team of multi-platform content producers who deliver on radio and digital materials for national broadcast. When he is not at work, he creates digital contents about food and agricultural processes as a hobby.
Kai Jimenes from UNFPA – United Nations Population Fund presenting the case-study "Breaking the Silence: Uncovering the Truth about Gender-Based Violence in Mongolia"
Kai is a researcher, strategist, and all-around storyteller. She recently transitioned into an international development neophyte, working to promote gender equality in Mongolia with the UN Population Fund. Prior to this role, she built her career in the private sector specializing in development and corporate communications, business strategy and innovations, and research and analytics.  She holds a Master's Degree in Political Economy and gives talks on branding, storytelling, and research in local and international forums.
Christian Vestergaard Sloth from Epinion, Denmark presenting "Study of young people with dyslexia – challenges and needs in the Danish education system"
Director and Head of Education and Science at Epinion within the areas of education, market research, statistics and projections. In charge of Epinions operations in Greenland working primarily within the areas of education, social affairs and labor market.
This session is part of the complimentary event for charities and NGOs called evocatively Research for Charities Seminar. If you are working in a charity and you are fairly close to Edinburgh here is your last chance to secure your free place on this link.
If you are in Edinburgh on Tuesday 10.09 make sure you do not miss the the activities we planned for you. Cannot attend the ESOMAR Congress? You can tune in to watch the live broadcast.