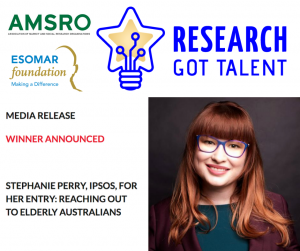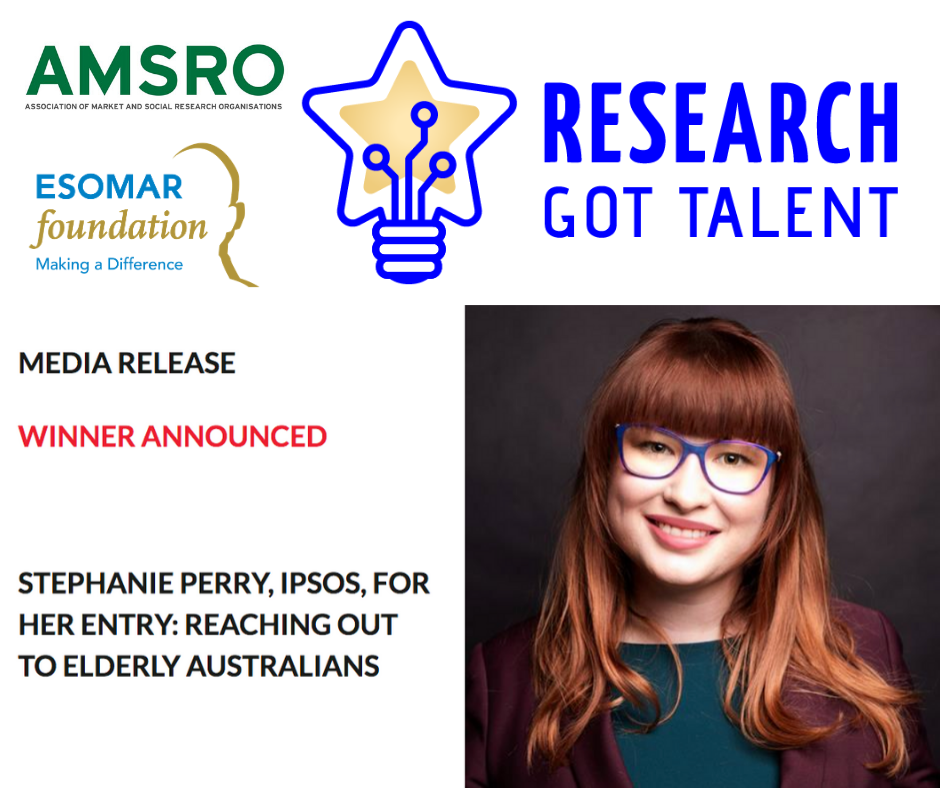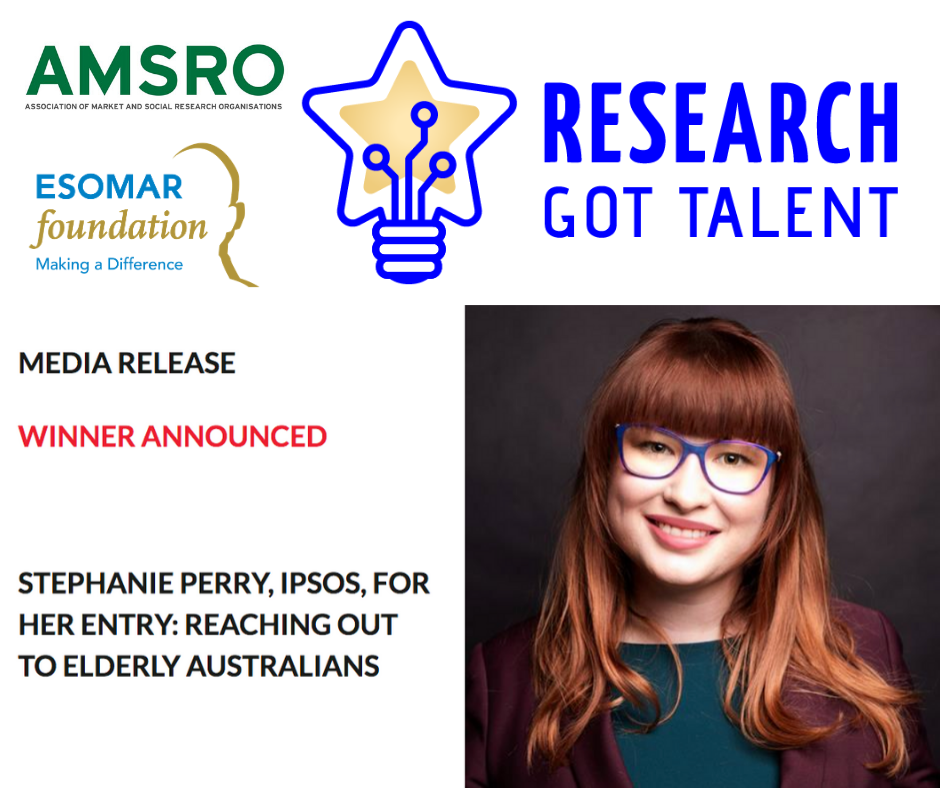 MEDIA RELEASE – 8 MAY 2020
The Association of Market and Social Research Organisations (AMSRO) and the global ESOMAR Foundation today announced the inaugural Australian winner for the Research Got Talent Award competition.
The competition encourages young professionals to use market research and insights to support local charities and NGOs to overcome pressing social issues.
Three finalists were announced last month and the winner is Stephanie Perry from Ipsos for her entry – Reaching out to elderly Australians, in association with spur:org – that sought to address the loneliness and vulnerability that older Australians commonly experience.
The research projects in the competition aimed to assist change in a range of areas including gender inequality, access to justice and education, integration and diversity, environmental issues, and climate change. The young researchers were required to submit a project proposal about the issue facing the charity/ NGO and how they would conduct research to assist them to overcome this issue. Entries were required to reflect a relevant, innovative, and impactful research design project that assesses the organisation's specific issue.
The other finalists were:
Stephanie Perry will now complete the project with spur:org and enter her final report in the Research got Talent global competition. Winners from each region participating in the global competition (six countries in total) will present their work to an international audience at ESOMAR Congress in September.
AMSRO Executive Director, Sarah Campbell, said: "Our judges were looking for projects that were innovative, addressed a prominent social issue and had the potential to make changes to the organisations they supported. The judges were unanimous in their decision on our Australian winner, Stephanie Perry, who delivered a clever, powerful and timely submission to address loneliness and social isolation issues with elderly people.
"We had an exceptionally strong field of entrants, many of whom addressed the COVID-19 pandemic and demonstrated the incredible value of research during times of crisis, and also highlighted the depth of research talent we have in Australia. As a result, a number of the entries are likely to be implemented over the coming months, which validates the overall quality of the submissions, their worthiness and applicability. The Research Got Talent Award competition is a great avenue for young researchers who really want to make a difference."
The Research Got Talent Award competition was open to young research professionals aged 18-35, who are AMSRO member organisation employees or work for an ESOMAR Australian-based member (individual or corporate).
The judges for Australia's Research Got Talent Award competition include: Dianne Gardiner, CEO, Bastion Insights; Caroline Tomiczek, Director, Urbis; Lisa Lewers, CEO, Lewers; Nora Hungershoefer, LUCID; Rob McLachlan, Chair, Kantar Australia and Sally Joubert, CEO, Luma Research.
Sally Joubert, AMSRO member and ESOMAR's Australian representative said:
"The Research Got Talent award competition aims to recognise young researchers, who want to make a difference. As recently witnessed via the outpouring of support for those affected by the bushfires, Australians like to give back. This competition provides a fantastic platform to enable young researchers to support a worthy cause of their choice, while simultaneously showcasing their professional talent. We are calling on all AMSRO and ESOMAR members to support this competition and young researchers. Don't miss this opportunity to celebrate your employees and company on the global stage".
In support of those people affected by the recent bushfire crisis, 50% of all entry fees received were donated to The Australian Red Cross Disaster Relief and Recovery Fund.
For further information: