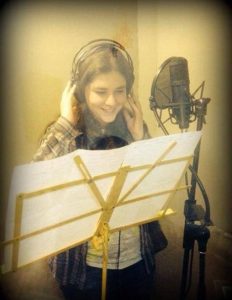 The ESOMAR Foundation is pleased to announce the awarding of a scholarship to Nutsa Kvitashvili, a 3rd year student at Caucasus University – Caucasus School of Humanities and Social Sciences following the BA Program of Sociology. This scholarship has been made possible through the generous sponsorship by Inizio.
This initiative falls within the scope of the ESOMAR Foundation's education program whose purpose is to give financial support to individual students from disadvantaged socio-economic backgrounds with an interest in pursuing a career in market research. The scholarship has been awarded after a careful evaluation of the motivational and socio-economic background of the applicants from an independent jury composed of experts from the market research industry.
The sponsor – Inizio
Inizio is a research company with digital focus, with its headquarter in Sweden. Inizio is a company that believes in the importance of education and have decided that this scholarship is a great way for them to support young talents like Nutsa in pursuing their career. The company has lots of industry experience and people who are eager to share their knowledge.
Johanna Olsson:
"Inizio are very happy for the newly started cooperation with ESOMAR Foundation and the opportunity to support Nutsa in her education and way towards her degree. It was important for us in our CSR engagement to support something close to both our business and our hearts. We feel that this cooperation truly satisfies both our wishes. This is going to be an interesting and inspiring journey for us as company and for us working at Inizio. "
The ESOMAR Foundation – Gunilla Broadbent, President:
"The ESOMAR Foundation is happy to support Nutsa in her studies and hopes that this scholarship will make a difference to her life and to her career efforts. We are grateful to Inizio for sponsoring this scholarship. It is an important contribution that stimulates the Foundation to continue in its endeavour to sustain young talents who need sustenance."
The beneficiary  – Nutsa Kvitashvili
"I'm so grateful to the ESOMAR Foundation and Inizio for your generous support. Thank you very much for awarding me with your scholarship and thank you again for giving me this opportunity. This scholarship was a motivation for me, to keep myself pushing forward and you helped me to believe in myself and be more confident."
Nutsa is 3rd year student at Caucasus School of Humanities and Social Sciences in Georgia following the BA Program of Sociology.
Nutsa's aspirations are to keep pushing herself into changes, new environments, new techniques. It's important to keep moving forward. It's also very important to never stop learning. There are always new skills to learn and new techniques for us to adopt. Learning helps us continually look for ways to improve. It is important to set new goals in life to motivate ourselves.
How you can support
If you are a market researcher, a national market research association, an NGO involved in research or a university interested in a scholarship in your country please contact us at info@esomarfoundation.org
Partners & Sponsors
We are always on the lookout for partners and sponsors. If you are an organisation looking to understand more on how you can support us, please find more information here or contact:  info@esomarfoundation.org