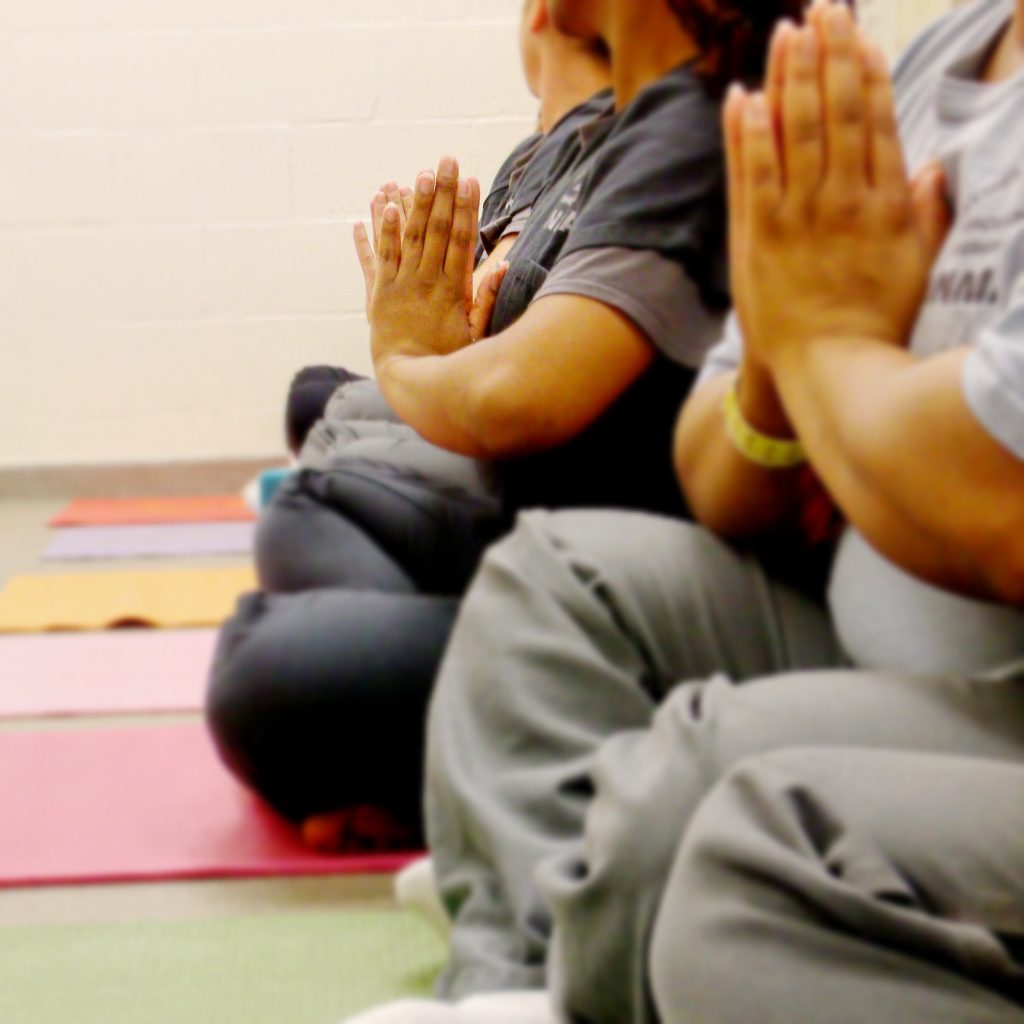 Given the uncertain and sometimes chaotic events many of us are experiencing on a daily basis, it is not surprising that the health care foundation Well Being Trust estimates that over 70,000 Americans alone will die in the coming years due to deaths linked to mental health challenges: suicide, overdoses from alcohol or illicit drugs, or "deaths of despair". The entire world has been impacted by the pandemic, and humans are yearning for proven mental health resources to assist in increasing mood, decreasing stress and anxiety, and positively impacting the ability to fall, and stay asleep.  Yoga 4 Change's programming, although having had to pivot to a virtual environment, is one option for individuals living in the communities where the organization serves (i.e., North Florida, South Florida, Tampa Bay and Central Florida), and because of the shift to offering programming virtually, individuals can access resources through the organization's YouTube channel.
Yoga 4 Change is the passion project of founder and executive director, Kathryn Thomas. Kathryn served in the United States Navy as a Naval Aviator and in her service suffered a disabling injury while on deployment. For Kathryn, yoga became a tool for healing and recovery. Yoga 4 Change was born out of that empowering journey. Recognizing the power of yoga, Kathryn set out to bring the benefits to underserved populations including veterans, incarcerated individuals, those struggling with substance use disorder, and youth. Yoga 4 Change provides curriculum-based programming that promotes well-being and empowers the segments it serves, creating healthier, safer communities, one class at a time.
Evaluation 4 Change was developed through collaboration and a desire to assist other nonprofits in achieving sustainability by demonstrating impact through a research lens. Evaluation 4 Change recently completed a yearlong evaluation of Yoga 4 Change's correctional programming. The groundbreaking multi-method research Evaluation 4 Change executed, helped secure a Florida Blue Foundation grant to develop, implement, and evaluate a one of a kind yoga and mindfulness curriculum to specifically address opioid addiction.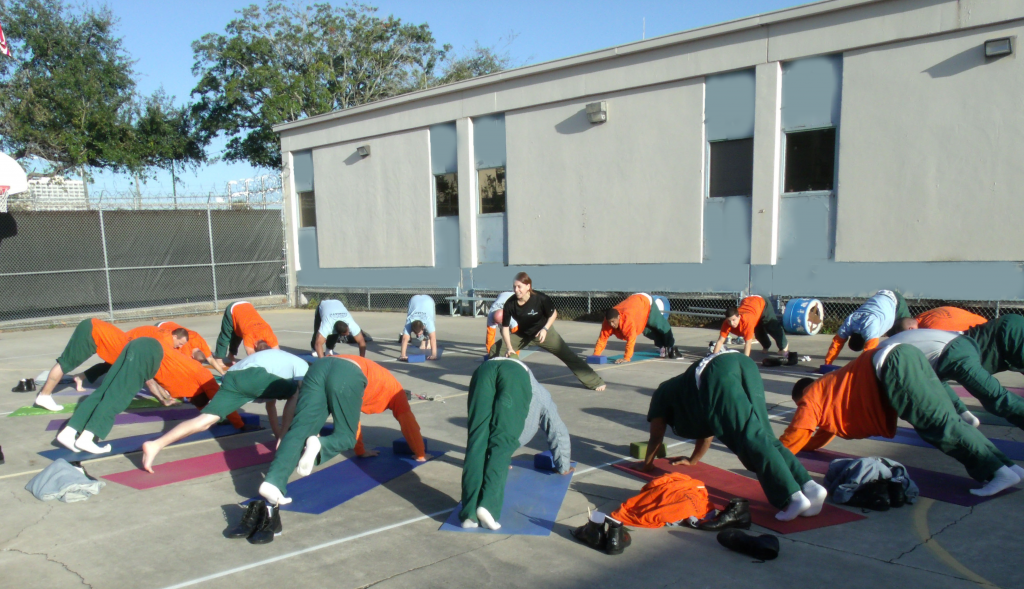 The study assessed a 16-week trauma-informed yoga and mindfulness curriculum offered for men and women incarcerated in three correctional facilities in Jacksonville, Florida. Data were collected both pre and post curriculum and pre and post-class session for three groups, voluntary participants, sentenced participants, and a control group. The multi-modal outcome data included both quantitative and qualitative self-reported and biometric measures of mental and physical well-being including assessment of coping skills, overall health, sleep, forgiveness, self-compassion, emotional awareness, emotional regulation, anxiety, anger management, and post-traumatic growth. Blood pressure, heart rate, mood and stress level were measured before and ager each class.
Pre and post curriculum assessment was conducted through a survey including multiple empirically validated scales and open-ended qualitative questions. The evaluation protocol was specifically tailored to the unique challenges of working within correctional facilities. Qualitative outcomes explore participant experience and program impact. Advanced statistical analyses were conducted, and qualitative data were coded and assessed for themes. Among outcomes, there were significant improvements in health, coping, forgiveness, self-compassion, emotional regulation, and post-traumatic growth. Participants experienced improved sleep and decreased anxiety. Overall, results are promising and indicate significant improvements in mental, physical and emotional well-being.
Yoga 4 Change offers a unique, evidence-based, low-cost, healthy way to treat trauma and improve mental and physical health by integrating physical movement with thematic teachings including a focus on gratitude, vulnerability, connection and self-compassion. Outcomes provide empirical support, validating the impact of Yoga 4 Change's curriculum. This study provided the foundation that allowed Yoga 4 Change to apply for and receive a grant from the Florida Blue Foundation to develop, implement and evaluate an empirically based trauma-informed opioid curriculum. As a result, Yoga 4 Change is expanding programming to three new markets and developing sustainable programming for those facing substance use disorders.
This research takes important steps to validate and elevate the field of yoga service as a whole. Internationally, there is a growing awareness of the benefit of yoga and mindfulness in service to people who have experienced trauma. Yet even with growing empirical validity, not all yoga is trauma-informed and not all yoga is offered in a universally inclusive way. If not approached intentionally, yoga has the potential to negatively impact practitioners – especially those who are survivors. With a growing number of yoga service agencies around the world, a strong understanding of and empirical support for trauma-informed programming becomes essential.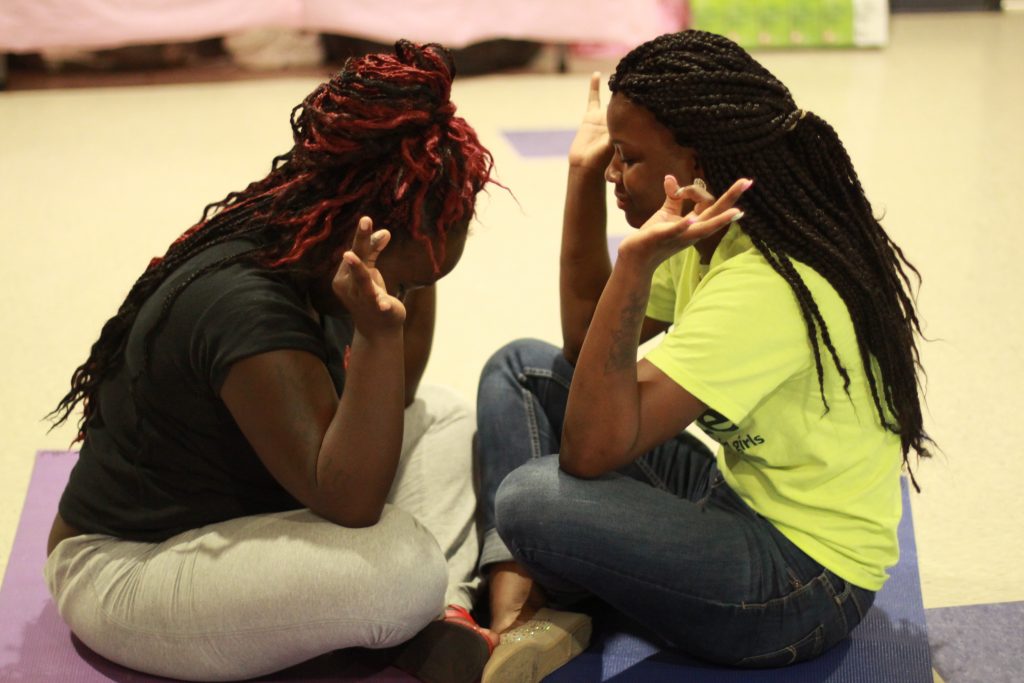 Through the implementation of research initiatives, curriculum development, program evaluation and training, Evaluation 4 Change will assist other nonprofits with building sustainability and ensuring quality programming. Evaluation 4 Change will work to raise awareness of yoga service and the importance of evidence-based programming. Not all yoga is the same, and not all yoga is beneficial for survivors of trauma. Despite this fact, there is little awareness in the field of yoga about the importance of recognizing the impacts of trauma. Evaluation 4 Change will provide education around the importance of trauma-informed approaches, creating yoga spaces that are as intentional and as safe as possible. Evaluation 4 Change will shape the field of yoga service by ensuring programs are intentional and impactful. Programs will have data on what is effective and evidence to assist them in best serving their constituents.
The research conducted by Evaluation 4 Change exists at the intersection of yoga and social justice. It demonstrates the tangible impacts of alternative approaches to supporting those who are impacted by trauma and there exists the potential for significant social impact. Through both research and practice, we can promote resilience in the populations with which we work.
This article is published as an entry for our Making a Difference Awards.
You can still submit your entry for this year's edition of ESOMAR Foundation Making a Difference Awards. This is a chance to applaud and reward the best examples of Market Research making a difference to the world's Charities.
Submit your entry here!