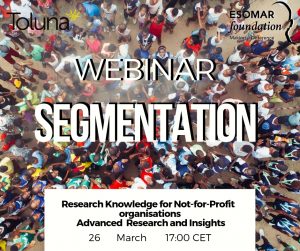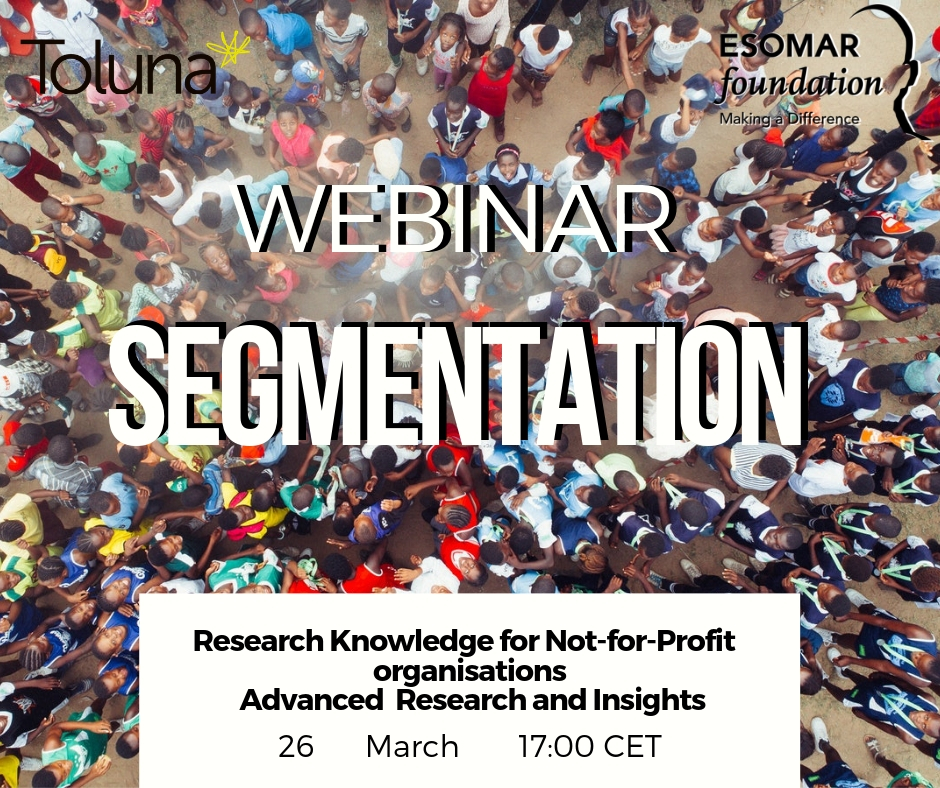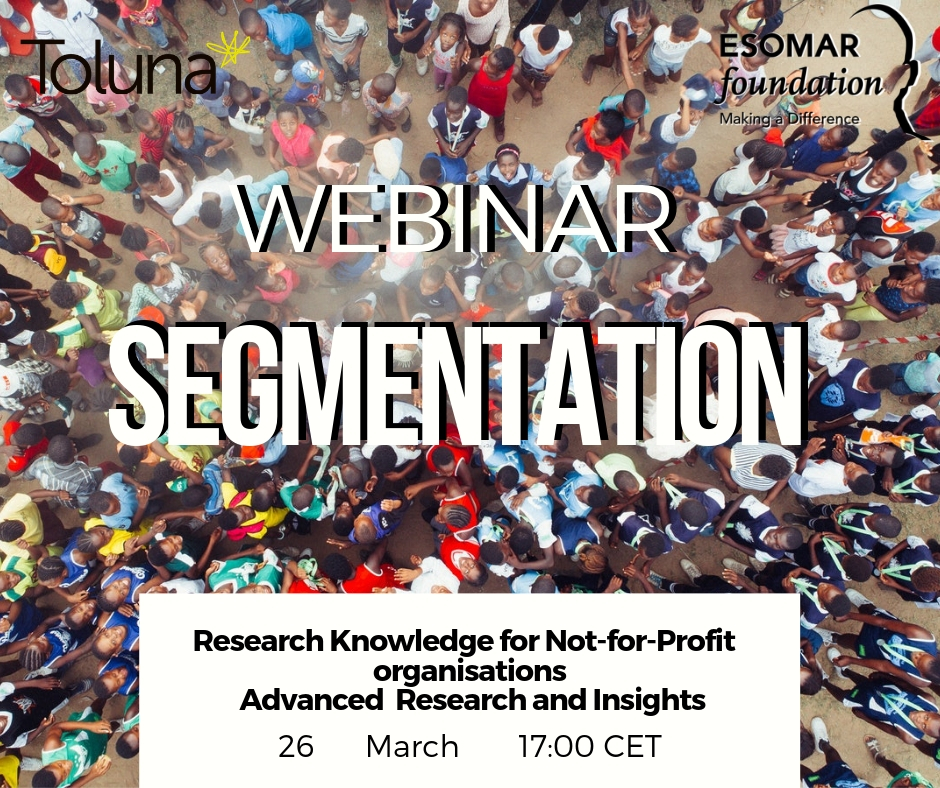 The ESOMAR Foundation, in partnership with Toluna, is pleased to announce the launch of a new series of webinars.  The webinar series is designed to offer insights and showcase advanced research techniques used to improve not-for-profit organisations work.
Market research in the private sector grows increasingly sophisticated as researchers and insight professionals develop more advanced analysis techniques and use new data sources and technologies to understand customer behaviour and target communications to individuals. In this 2019 series of Webinars, ESOMAR Foundation aims to inform Not-for-Profit organisations about these advanced research techniques in order to help them use research more effectively in their programmes.
The first in the 2019 series considers Segmentation – probably one of the most powerful techniques used to target customers – and how we can use it for social good. Marketers nowadays invest a significant amount of time and money to deepen their understanding of their customers, including their behaviors, beliefs, emotions, unconscious biases, and social norms.  Commercial companies have made psycho-behavioral segmentation core to their approach because it works – it improves their bottom line! However, psycho-behavioral segmentation remains woefully underused in the global development sector. Most global development programmes still segment people by demographics when trying to change their behavior. There are tremendous opportunities to learn from the private sector and segment people based on the reasons behind their actions so that they can talk to them in ways that they will listen.
In this webinar, Sema Sgaier of Surgo Foundation will cover the value of segmentation in the global development sector, demonstrate its effective use through case studies, and discuss the challenges, lessons, and opportunities for Not-for-profits to make better use of segmentation in their research budget.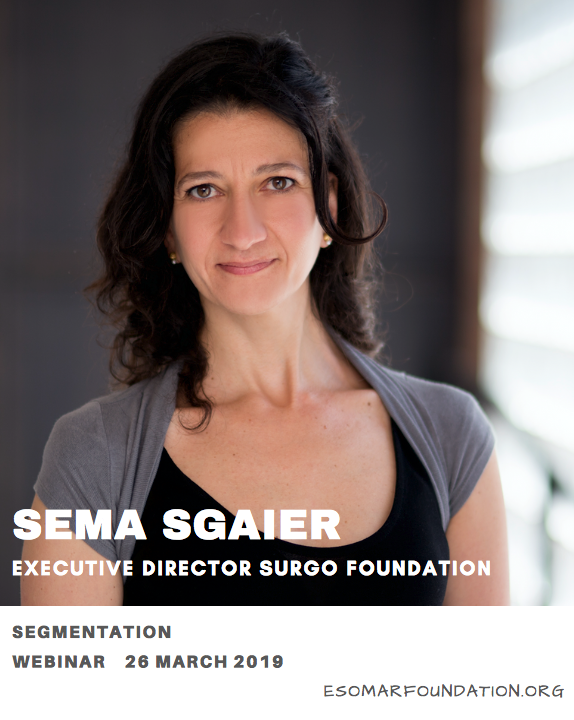 Co-founder and Executive Director of Surgo Foundation, a privately funded action tank whose mission is combining a customer-obsessed agenda with thinking in systems to solve complex global development problems. She works at the intersection of behavior, data, and technology. Previously at the Bill & Melinda Gates Foundation, she led large-scale health programs in India and Africa. She is faculty at the Harvard T.H. Chan School of Public Health. She was selected as a Rising Talent by the Women's Forum for the Economy and Society and has a PhD in neuroscience.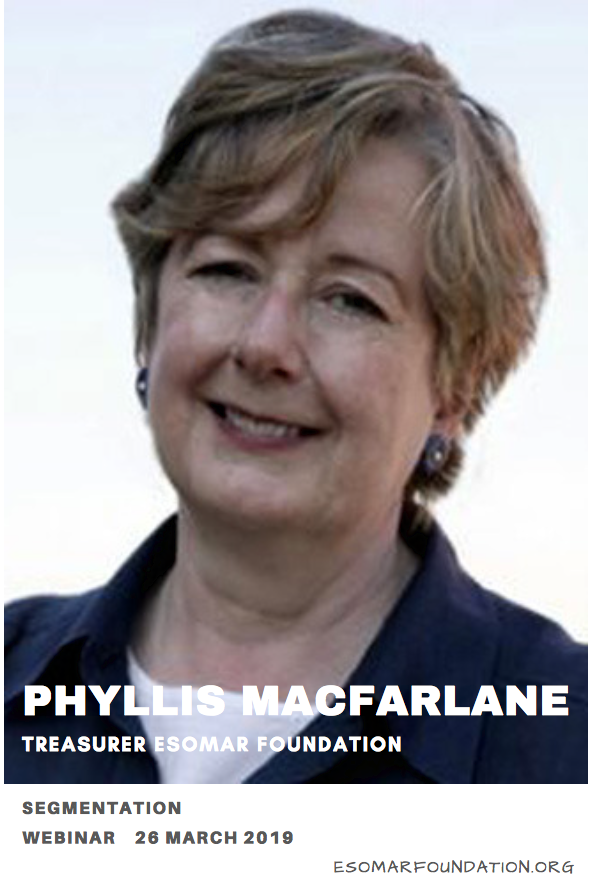 A lifelong market researcher currently working on the GfK Verein's University Cooperation Programme to improve the quality of education in Market Research in Africa and China.
We look forward to hearing from you next week, 26 March 2019, 17:00 CET for an enlightening discussion!