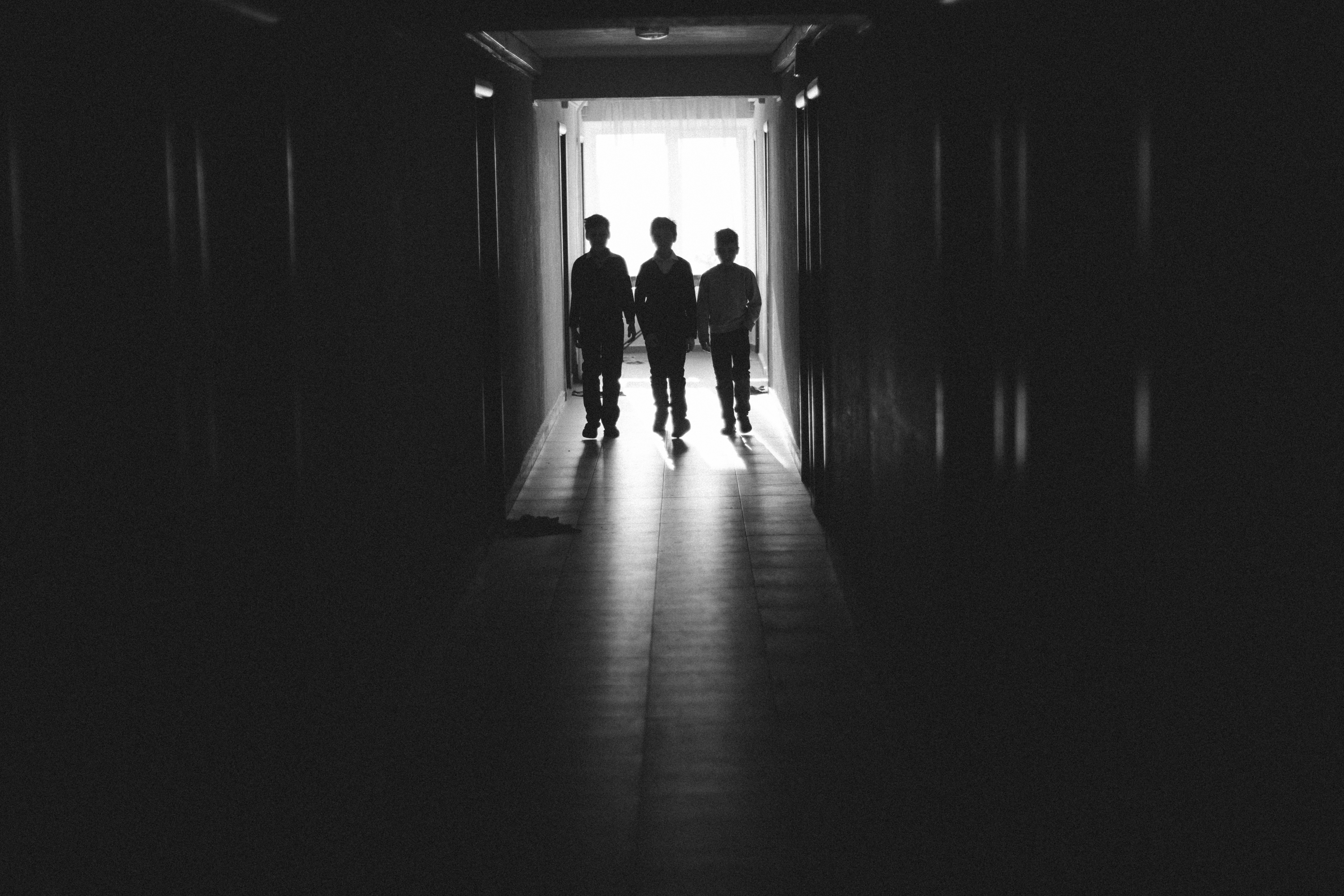 Ukraine is a country of origin, transit and destination for trafficking of men, women and children.
According to the research commissioned by the International Organization for Migration mission in Ukraine and conducted by GfK Ukraine, over 230,000 Ukrainians have become victims of human trafficking since 1991. It makes Ukraine one of the main countries of origin of trafficking of human beings in Europe. Internal trafficking is also a growing problem. The number of human trafficking victims increased as a result of the war in the East of Ukraine.
The survey aimed to define the vulnerability and the level of awareness of human trafficking among nine groups of children and youth in Ukraine. The survey covered children in difficult life circumstances and orphans; children from foster families and family-type homes; children displaced from the conflict zone in the East of Ukraine; children with special needs; homeless children; young people detained in penitentiaries; and youth of vocational schools. The most numerous group was the youth at vocational schools (315,600 persons), while the youth in penitentiaries was the least numerous (217 persons).
Forty (40%) per cent of vulnerable minors from 13 to 17 are ready to accept at least one offer that may lead to their involvement in human trafficking.
The survey was conducted via a face-to-face interview method. 2,079 children and young people were surveyed. GfK Ukraine gathered statistics on the number and distribution of each group of children and built the sample accordingly.
Six indicators of awareness of human trafficking and vulnerability were designed and calculated: awareness of the human trafficking forms; estimation of the risk to get involved in human trafficking; propensity to risky behaviour; the level of dangers of the social environment; awareness of safeguards against human trafficking; awareness of where to address if got involved in human trafficking.
The most disturbing results showed the indicator of propensity to risky behaviour. Children were asked whether they would accept different risky proposals from relatives, friends, neighbours, teachers, strangers, etc. 40% of vulnerable minors from 13 to 17 are ready to accept at least one offer that may lead to their involvement in human trafficking. The youth in penitentiaries are the most inclined to accept risky proposals (72%). Children would be most inclined to accept the proposal to work without official employment in Ukraine, to try drugs, to get in a stranger's car, to go to strangers' homes, or to undertake suspicious or illegal work that is well paid.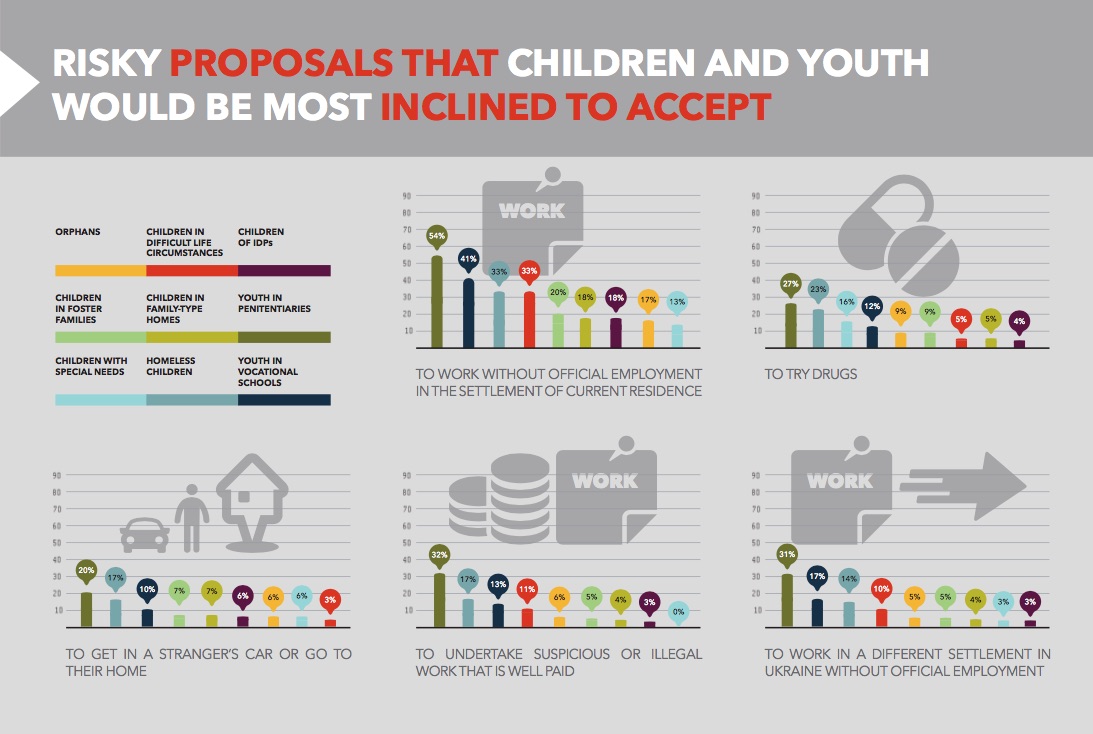 Support and involvement of public figures and the civil society
The survey has a great impact on the counter-trafficking activities in Ukraine either on national level, or on local one. According to the results of the survey, IOM Mission in Ukraine developed the strategy for counter-trafficking (CT) awareness-raising campaigns, including a public service announcement (PSA) on trafficking in persons filmed in 2017 with a famous Ukrainian singer, winner of Eurovision 2016 – Jamala, which is an integral part of the National Counter-Trafficking Information Campaign "Danger Might Be Invisible at First in Ukraine".
IOM partner NGOs used the data on the level of children's vulnerability to human trafficking for local advocacy and prevention initiatives, including the campaign aimed to strengthen the National Referral Mechanism for Assisting Victims of Trafficking in every oblast of Ukraine.
Impact data
IOM implements a variety of human trafficking prevention activities. To improve the existing counter-trafficking practice, it conducted specific surveys on a regular basis to identify the most vulnerable and at-risk populations. Taking into consideration the results of the commissioned survey, IOM supported NGO small-grant projects in every oblasts of Ukraine focused on targeted awareness increase and prevention work among the identified key vulnerable groups of children and youth with the highest risks of human trafficking. As a result of these projects, more than 63,000 vulnerable children and youth increased their knowledge of various types of human trafficking and basic rules of safe migration and employment.
In 2018, the second wave of the survey will be conducted by GfK Ukraine.
* The survey was conducted in December 2015 by GfK Ukraine for IOM and covered all oblasts of Ukraine except for territories of Donetsk and Luhansk oblasts that are not under the control of the Ukrainian government and AR Crimea.
About the Author:
Tamila Konoplytska, Senior Researcher at GFK Ukraine
Inna Volosevych, Head of Social and Political Research Department at GFK Ukraine