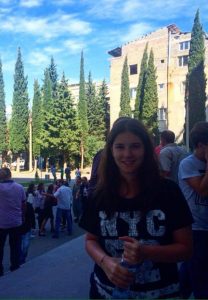 This is the first blog from Nutsa Kvitashvili who is following the BA Program of Sociology at Caucasus School of Humanities and Social Sciences. Nutsa is the recipient of the ESOMAR Foundation Scholarship sponsored by Inizio.
When I became a student  at Caucasus University, studying for me was difficult and challenging. But best things in life come from hard work. First year at CU was hard for me. It was hard to keep up with university's life but hard work really pays off. Now it's my 3rd year at university and studying opened many doors in my life, it also expanded my views on many things. Now I can manage my time effectively. It's a very important skill not only for university but for my future career. I'm also better in writing essays. It's also a very important skill because essay is a student's opportunity to show his/her knowledge on a given subject.  I'm better in giving presentations and working on group projects too. University is very different from school, here you have to learn how to adapt and take responsibility for everything you do. I've gained many practical and valuable skills while studying. Also I'm moving forward, developing more as a person and I'm one more step closer to reaching my career goals.
Sometimes being motivated at university is hard, but the ESOMAR Foundation scholarship helped me stay enthusiastic and excited about what I'm doing. It helps me being motivated and passionate about studying. It's an honor to be the recipient of the ESOMAR Foundation scholarship and it's not only about receiving the money, it's also about the potential that you saw in me. I'm going to do the best I can to make you, my family, my friends and my university proud. I want to thank ESOMAR Foundation and the sponsor INIZIO again for giving me this opportunity.
How you can support
If you are a market researcher, a national market research association, an NGO involved in research or a university interested in a scholarship in your country please contact us at info@esomarfoundation.org
Partners & Sponsors
We are always on the lookout for partners and sponsors. If you are an organisation looking to understand more on how you can support us, please find more information here or contact:  info@esomarfoundation.org