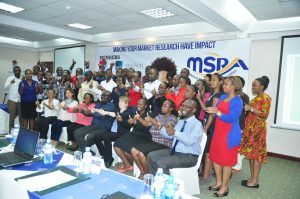 Developing the Impact of Research in Emerging Markets – the ESOMAR Foundation Education Programme. A contribution from Phyllis Macfarlane – Treasurer of the ESOMAR Foundation and GfK.
Forty six delegates from 19 agency, client, and academic organisations gathered together in Nairobi on April 13/14th 2016 for an advanced Training programme organised and funded jointly by ESOMAR Foundation and MSRA – the Kenyan Social and Market Research Association.
The ESOMAR Foundation volunteer trainers were Meltem Karahan (P&G), Pervin Olgun (ESOMAR Council and Barem), and myself, Phyllis Macfarlane. We'd been working together over several months on the content of the training programme, and were excited to be meeting our audience at last. (And perhaps a little nervous, on finding out it was so large!)
Our brief was to help the Kenyan MR Industry develop it's work for market research to have greater impact on business decisions in Kenya – a big task, covering qualitative and quantitative research, understanding client's business requirements, and reporting for greater influence at senior level.  We knew we had a lot to cover, and high expectations to meet – it's always an issue to satisfy the needs of many experienced researchers, some interested in qual, some in quant, some in both – some in other aspects of MR altogether. And, with a big audience, it's difficult to introduce the interactivity that everyone needs to learn effectively. Everyone was going to have to work really hard for the 2 days. So that's what we all did – delegates and trainers alike!  It was exhausting but ultimately very satisfying.
Meltem Karahan played a major role in the training – generously sharing her 28+ years' experience in P&G and showing us how clients distil information in order to make decisions. It was extremely useful to see how data from multiple sources is reduced to tell what appears to be a very simple story – deceptively so because of the huge amount of effort and thought that has gone into it – a real insight into how clients think and process market and customer information.
Meltem also spent lots of time demonstrating the importance of high quality qualitative and quantitative research practices – specifically asking the right questions and developing  true listening skills. The delegates truly appreciated her openness and advice on what clients expect from researchers .
Pervin shared her experience of the statistics that all researchers need – for sampling and for data analysis. And again this was much appreciated. In fact delegates would like to see even more detail on advanced analysis techniques and modelling – the challenge of Big Data was mentioned more than once!
I covered the importance of qual and quant research to business decision making, calculating the ROI of research, and speaking the right language for senior executives. The analysis and  communication challenges that the new generation of researchers face. Also Qual Group discussion techniques and the Future of MR – digital qualitative research and behavioural economics.
All the presenters shared Case Studies to demonstrate how research adds value, insight and how to report data effectively.
A real highlight of the workshop were the discussions  around client demands and to what extent researchers can push back – especially when clients clearly do not understand local culture and practices. Obviously the  way to do this is positively – explaining that certain things will not work or will not be acceptable to local respondents. The delegates particularly appreciated Meltem's candour in answering their questions and concerns – which are clearly very real.
By the end of the 2 days everyone was exhausted, but all agreed that they had learnt a lot – both delegates and trainers.
What did we learn from the feedback?
Well, we had lots of good scores. Delegates particularly appreciated the content on story-telling and insight generation, the sessions on research quality and ethics, and  the newer techniques such as digital qual and behavioural economics. They would like more training on social research, advanced data analysis techniques, insight generation, reporting and presentation, big data, and behavioural economics.
They would also like more local case studies, more time(!), and more interactivity. It's always a challenge, to cover both the amount of content required and spend time digesting it.
Some nice comments on what delegates particularly liked: 'The use of case studies to demonstrate how insights can be maximised for the company's benefit'; 'It was forward looking and focussed on addressing changing industry needs', and, my particular favourite: 'It was a breath of fresh air!' . We can ask for no more
In ESOMAR Foundation training programmes, such as this, we aim to stimulate both young and experienced researchers to stand back and think about their work and the future of MR. For so much of our research lives we are immersed in difficult and challenging process to deliver to ever increasing client demands and deadlines, gathering data from ever more busy, complex and elusive respondents – it is inspiring to see examples and hear stories of how research is used to impact our clients' business. And it's also important that growing, emerging markets develop and adapt approaches which are suitable for them and their culture. It should not be a case or replicating what is done elsewhere, but of innovation and fresh thinking. We hope to stimulate that thinking.
We aim to entertain as well as educate – the main enjoyment comes from sharing real case studies (with videos!)  – and we had excellent examples from Africa and all over the world. It is always good to see, and reflect on  what happens to research after it leaves the agency. After all, as researchers, we are very fortunate to lead such varied and exciting lives – many people do not have such interesting and challenging work, which impacts people and society every day.
The real highlight of the Kenya Workshop, for me, and for Meltem and Pervin, was to meet so many enthusiastic and dedicated researchers  – and hear of their experiences, challenges and questions – sometimes the best learning is done in the tea-breaks and over lunch. (The food – and especially the cake – is always excellent in Kenya!). We are grateful to the MSRA Council for all their support and hard work to deliver such an engaging and worthwhile experience. And I am particularly grateful to Meltem and Pervin for giving their time and expertise so generously. We all hope to continue in 2017!
Phyllis Macfarlane