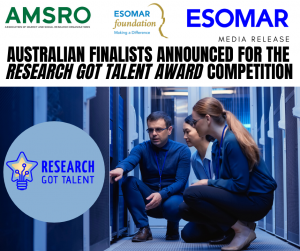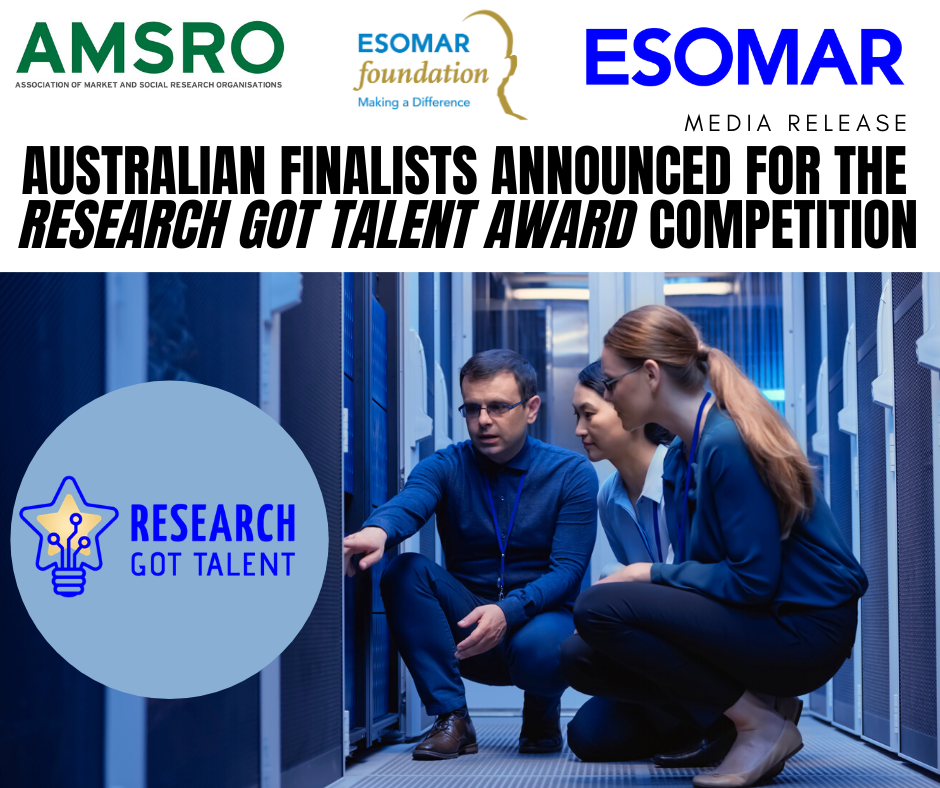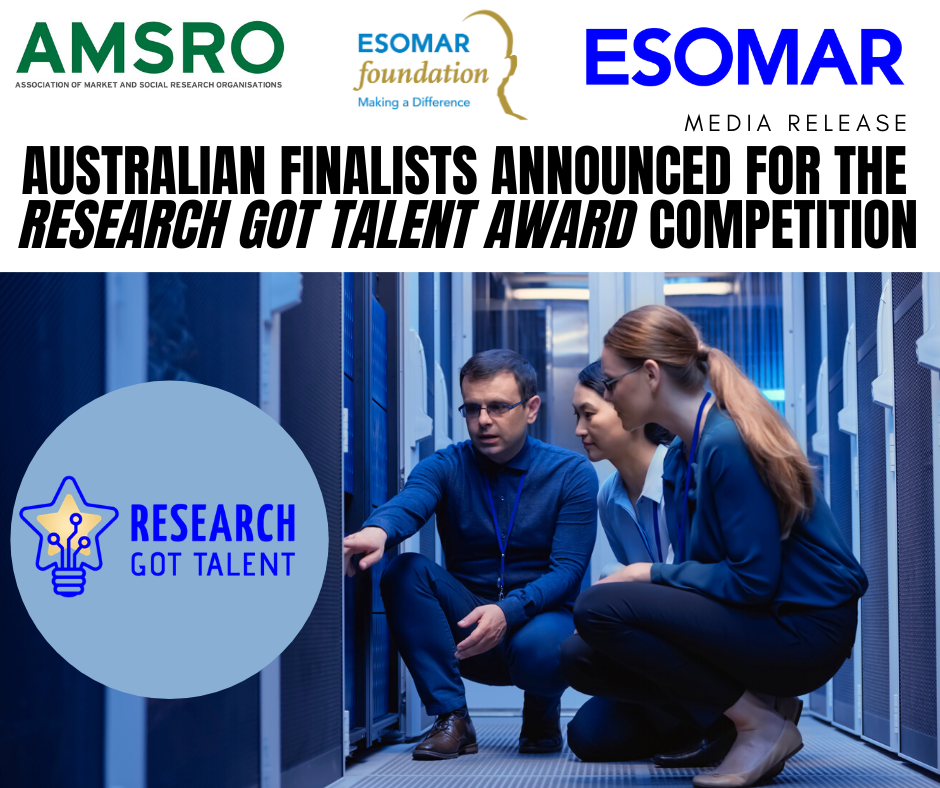 The Australian finalists for the Research Got Talent Award competition, the Association of Market and Social Research Organisations (AMSRO) and the global ESOMAR Foundation's exciting new venture, were announced this week.
The competition, which has launched in Australia for the first time this year, encourages young professionals to use market research and insights to support local charities and NGOs overcome pressing social issues. The research aims to assist change in a range of areas including gender inequality, access to justice and education, integration and diversity, environmental issues and climate change. The young researchers were required to submit a project proposal about the issue facing the charity/ NGO and how they would conduct research to assist them in overcoming this issue. Entries were required to reflect a relevant, innovative, and impactful research design project that assesses the organisation's specifc issue.
The finalists (in alphabetical order) are:
Finalists will go through to the next round of virtual judging on Wednesday 6 May 2020. One winner will be selected and entered into the Research Got Talent global competition. Winners from the global competition will take to the stage at the ESOMAR Congress to present their work to an international audience.
The competition is open to young research professionals aged 18-35, who are AMSRO member organisation employees or work for an ESOMAR Australian-based member (individual or corporate). Entrants can work individually or in a pair.
Sarah Campbell, AMSRO Executive Director, said: "The Research Got Talent Award competition is a great avenue for young researchers who want to make a difference. Our judges were looking for innovative projects that addressed a prominent social issue and had the potential to make changes to the organisations they supported.  We had an exceptionally strong field of entrants, many of which addressed the COVID-19 pandemic and demonstrated the incredible value of research during times of crisis. These young researchers have submitted excellent ideas and we look forward to the final round."
Australian judges for Research Got Talent include Dianne Gardiner, CEO | Bastion Insights; Caroline Tomiczek, Director | Urbis; Lisa Lewers, CEO | Lewers; Nora Hungershoefer, CS Manager | LUCID; Rob McLachlan, Chair | Kantar Australia and Sally Joubert, CEO | Luma Research.
AMSRO and ESOMAR would like to acknowledge and thank all of the entrants for their outstanding submissions and their respective member organisations for supporting this new joint initiative.  We would also like to thank the generous sponsors for helping make the Australian competition possible – Lewers, Luma Research and LUCID.
In support of those people affected by the bushfire crisis, 50% of all entry fees received will be donated to The Australian Red Cross Disaster Relief and Recovery Fund.
About AMSRO
The Association of Market & Social Research Organisations (AMSRO) is the peak body for the market and social research, data and insights industry. AMSRO works in partnership with its company members, plus privacy authorities, business, government and the community to protect and promote the industry and uphold the highest ethical and privacy market and social research standards. Since its establishment in 1989, AMSRO has grown to more than 90 members, who employ over 5,000 people, representing 70% of the industry's annual (data collection) turnover.  In 2003, AMSRO pioneered its own privacy code for members, which won an Australian Privacy Award in 2009.  www.amsro.com.au
About the ESOMAR Foundation
The ESOMAR Foundation is a charity representing the Market, Social and Opinion Research industry. Our industry has a wealth of knowledge and experience that can be applied to every aspect of society to ensure a more transparent, reliable and sustainable world. The ESOMAR Foundation believes that a fair, just and peaceful society is deserved by all and recognizes the immense promise that the research community offers to those striving to achieve these goals on a global level. The ESOMAR Foundation brings volunteers and resources together to execute projects to help and support charities and NGO's to achieve their aims. Its aim is to encourage the usage of more insightful and inventive research and increase the overall impact of market research in building a better world.
For further information:
Sarah Campbell | Executive Director | AMSRO