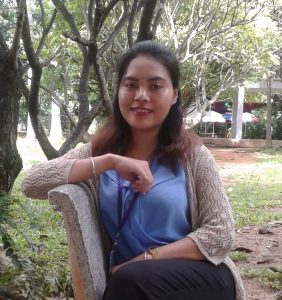 My name is Esther Tot. I am 21 years old. I am a young Cambodian lady that received a scholarship awarded by the two amazing Data Research industries, ESOMAR Foundation and Women in Research Organization. These two organisations have helped me since my first day in university and now I am in my 4th year and they are always here supporting me throughout my education journey.
This is my follow-up story:
I can't believe that I am in Year 4! the final year of university life. From my first to the third year I always wished I could graduate soon, but I'm finally in my year 4 and I can feel that it is going to be over soon, and I don't want it to be over! I start feeling like I'm going to miss school, missing all my teachers, my friends, and school volunteer events and meeting new foreign friends, seminars, and especially all the fun exchange programs. Now I have just figured out that I never expected my uni-life to finish this soon. My aim is to apply to continue my master's degree abroad wherever possible according to God's plan.
I honestly have no idea what journey awaits me in this semester, but I am trying my best to prepare for it. Nonetheless, I have great news! I have passed all the subjects in the last semester of my 3rd year. I was so scared that I would fail Finance class but – thank God – I passed it all! I am so proud of myself that I continue to improve and survive this university life. They say, Life will move on even though you wanted it to or not, so I either move along through life or I get stuck in my pathetic pass. I quit my part-time teaching job as I needed more time to focus on my studies, especially on my Finance class. However, I am ready to step out of my comfort zone and try something new. I hope I could get one good career during my internship or when I will graduate. I always wanted to open up my own business, but I have no budget. I also want to work in the embassy and become an ambassador one day…
In conclusion, I would like to encourage all young ladies to be free to dream a big dream and work toward achieving it. Don't let anyone tell you that you can't do it. Remind yourself that you can! Because achievement can depend on your thought as your thought influence your action. Be brave, be confident, step out of your comfort zone and achieve your goal.
Lastly, I want especially to say thank you to ESOMAR Foundation and Women in Research! They are the amazing data & insight research industry organisations that are giving me the opportunity to change my whole life. This is the most amazing gift that I have ever received. It is a life-changing gift from heaven. These two organisations have helped change a lot of young citizens' life and offer them a good education for a future career.
Partners & Sponsors
We are always on the lookout for partners and sponsors. If you are an individual or an organisation looking to understand more about how you can support us, please find more information here or contact:  info@esomarfoundation.org