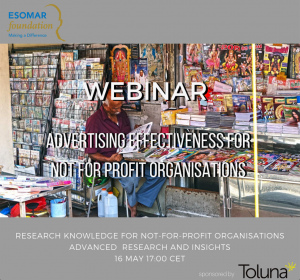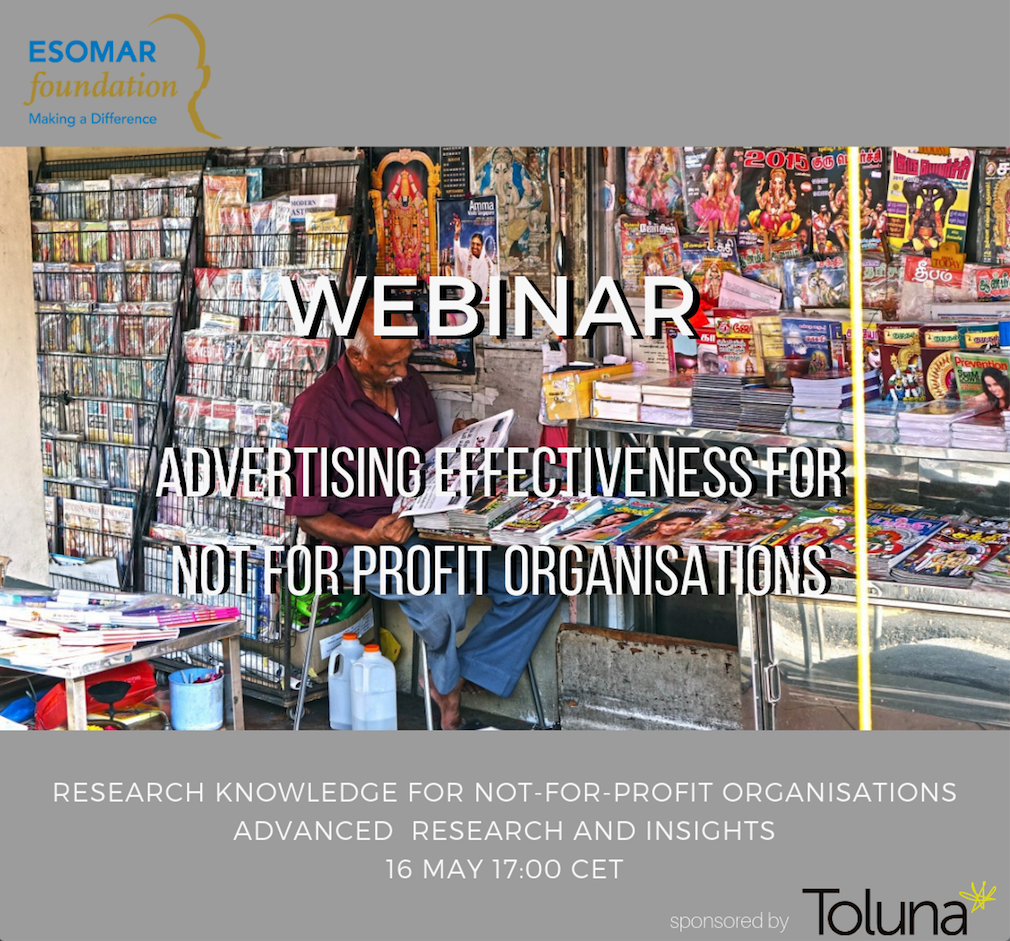 A unique opportunity to hear the very latest understanding on NfP advertising
In this second webinar of our series on Advanced Research techniques, we look at Advertising Effectiveness for Not for Profit organisations. We all know that old adage that half of all advertising spend is wasted, it's just that we don't know which half – but over the last decade or so – with the new neuroscience bringing real understanding of how the brain works – we are getting much better at knowing which types of advertising are most effective – in both the long and short term – and new technology has helped us measure the effect in ways that just weren't possible before.
We are very fortunate to have Will Goodhand to deliver our webinar. Will has the advantage of both being a very experienced Social Researcher, and working at System1 research, who specialise in measuring advertising impact and effectiveness – so he can bring very relevant experience to the issue. He is going to share the very latest understanding on Not-for-Profit advertising, drawing on the S1AR (System1 Ad Ratings) database which contains the measured performance of all UK and US ads immediately they are aired. From this huge database we will learn how charity/not-for-profit advertising is doing overall. How does it compare to other categories? (Not well, apparently). And whether you love or loath such overall comparisons, what about performance within the charity category? Who are the star performers and what can we learn from them? And is there anything that can be taken from the best performing ads in other categories? Will draws on his personal experience working across the categories of charity, FMCG and Tech, with the aim – like all good ads – of stirring emotion and positive action!
This is a truly unique opportunity to learn about the potential for advertising – and overall communications effectiveness – for your not-for-profit organisation.
If you use advertising for fundraising or for awareness-raising, you will learn what you are doing wrong and what you are getting right. What works and what doesn't.
And if you don't yet use advertising – you will know the arguments for and against certain types of approaches, and what advertising could potentially do for your organisation.
This really is an unmissable opportunity for anyone working in – or interested in – the Not for Profit sector. We guarantee that you will learn how to communicate better in general, that it will give you something you want to talk about, and it will really make you think!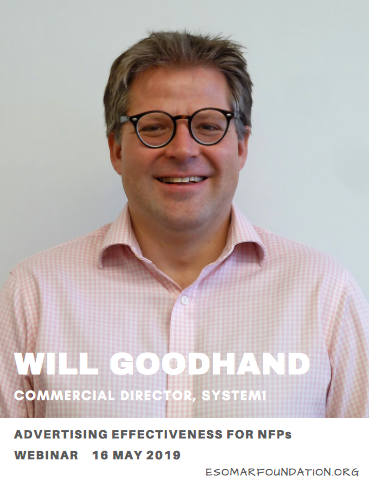 Will Goodhand leads the Communications research team at System1 PLC, determining the emotional performance of advertising for long and short-term profitability. Will's team works with a number of UK and international charities, while also servicing many leading FMCGs and tech companies. Will is a key member of the S1AR (System1 Ad Ratings) team which tests every UK & US ad as it airs (including Not-for-Profit), creating a comprehensive and accessible source of data on the performance of the industry and individual comms.
Outside work, Will is a volunteer Trustee of SURF, the Rwandan Survivors' Fund charity and he champions the Iwacu widows' cooperative who hand-make beautiful jewellery: www.rwandanbeauty.com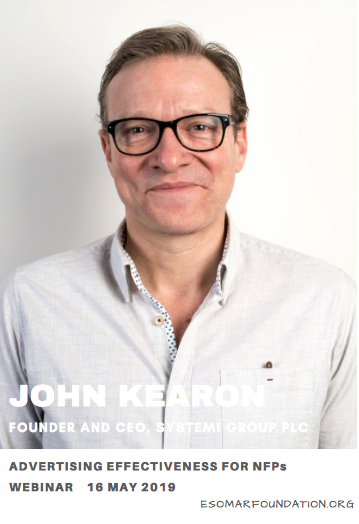 CEO of System1 Group PLC; voted most Innovative Research Agency in the world for the last 5 years running. John's recipe for entrepreneurial success is; creativity, resilience, determination, perseverance, stamina, drive, imagination, resourcefulness, courage, self-belief, commitment, ability to go without sleep and a touch of madness.
Prior to BrainJuicer, John founded innovation agency, Brand Genetics and before that, John was Planning Director at Publicis having joined from Unilever, where he held a number of research and marketing positions. Since September 2017 he holds the President position at ESOMAR Foundation.
Live webinar 16 May 2019, 17:00 CET