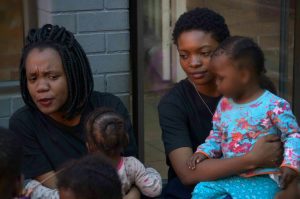 This is the fourth blog-post from Nicolin Mamuya, the first ESOMAR Foundation scholarship in South Africa.
It's the final term of my three year degree and I am counting down the days. September has been the busiest month I have had this whole year with the assignments and never-ending tests. The pressure only continues to grow. The idea of actually finishing my degree makes me imagine life after school. I am already used to living alone which means that the only thing that I have to adapt to after school is the work life and the responsibility of paying my own bills. I cannot wait to be able to fully take care of myself without having to depend on anyone. I think I'll go on a shopping spree with my first pay check. Something to reward myself for the hard work and consistency I maintained throughout my academic career.
Sadly, the chances of finishing my degree this year are looking a bit blurry due to the recent student protests that have been occurring in South Africa. The students are pleading for free education as poor students are being excluded from universities. The protests are turning violent and are disrupting academic schedules. Many universities are having discussions on possibly ending the academic program for the remainder of the year and resuming in the beginning of next year. I really hope that does not happen as this delays everything.
I do feel sorry for the students being excluded for their inability to pay school fees, because I believe that if someone has the intellectual capacity to further their education then money should not be the impediment that prevents the person from reaching academic success. However, I do not support the violence that accompanies these protests. Other students are being forced out of lecture halls during classes, school property is being burnt and destroyed and the protestors are threatening the lives of students who choose to go to school instead of joining the protests. This leaves many of us afraid to even go to school, because of the fear that we might get hurt.
I can honestly only see things getting worse because South Africa is not in the right state to provide free education. I can only hope to finish my degree this year.
The scholarship awarded to Nicolin was sponsored by SSI and in collaboration with SAMRA.
If you want to support the ESOMAR Foundation and people like Nicolin in having the opportunity to study and pursuing a career in market research…participate the to ESOMAR Foundation charity prize draw today!