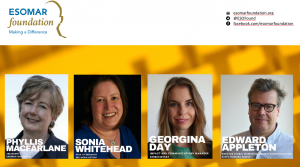 Esomar Foundation continued the webinar series on Qualitative Research in Non-Profit organizations with a new webinar dedicated to the use of different qualitative approaches to achieve various objectives.
The webinar focused on examining how different forms of qualitative research can be used to help support non-profit organisations.
The online event was hosted by Phyllis Macfarlane (GFK & Esomar Foundation) and featured three participating speakers: Sonia Whitehead from BBC Media Action, the media giant's international development charity, Georgina Day of London-based NGO Streetinvest and Edward Appleton from qualitative consultancy Happy Thinking People.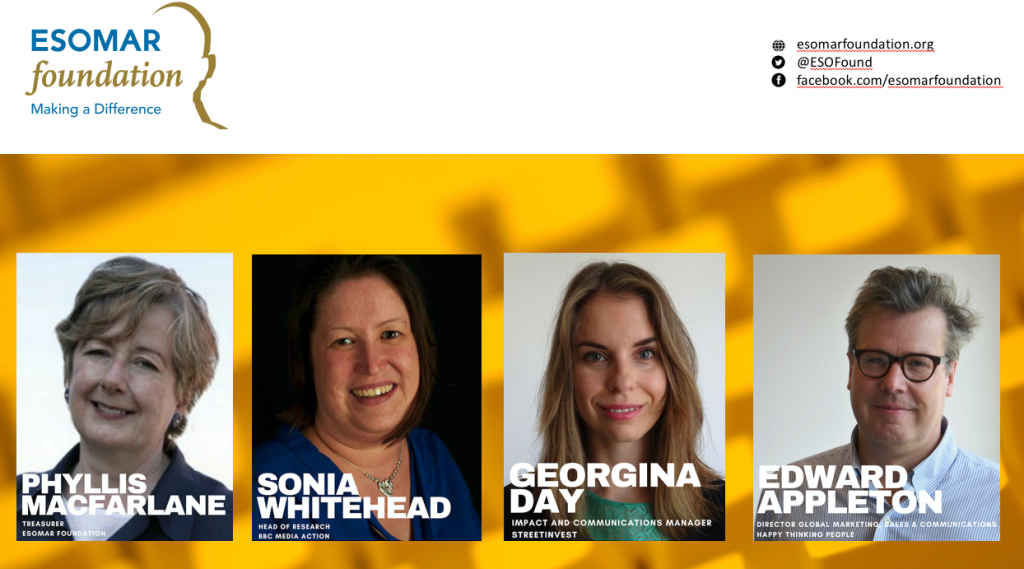 In her introduction, Phyllis stressed that qualitative research is of "such growing importance to the world of Market Research" overall.
Each of the speakers then talked about different qualitative tools relevant to Non-Profits in helping them and their donors better understand the lives of the people they are looking to support.
Sonia Whitehead's talk focused on Group Discussions, In-depth Interviews and Ethnographies.
She stressed the importance of shaping a research design according to the cultural context anticipated, for researchers to ask themselves how important it was as part of the research to understand what is actually happening, i.e. beyond perceptions.
One fascinating example was given on how qualitative techniques can be used to get people to open up on sensitive topics: a project exploring sexual health issues amongst young people in Zambia. A technique was used whereby the moderator introduced a fictitious couple, John and Esther, and a fictitious story about an unfolding sexual relationship. Talking about "other people" in this way overcomes inhibitions. One size does not fit all, however – especially culturally.
Sonia contrasted the success of this technique with a similar topic/ project from Cambodia/Myanmar where the group discussion approach didn't work, people didn't open up so much. Paired-depths were instead adopted, participants were more comfortable, outputs were rich in detail about individual experiences, which incidentally isn't possible in a group discussion where consensus is more important.
As an important take-out, Sonia stressed how perceptions can be different from behaviours, and outlined a mixed method research design in Phnom Penh and floating communities aiming to better understand the impact of climate change.
This involved interviews with community elders, observations and photos of the community itself, and finally a range of tasks completed by members in the community who were asked to draw community maps and seasonal calendars.
The message: triangulation is a powerful insight tool, gathering different viewpoints on one-and-the-same subject matter.
Streetinvest's Georgina Day talked about how her Non-Profit organisation has been using simple but effective Video Ethnographies in both educational and advocacy work, to help correct negative and potentially dangerous perceptions about street kids.
Methodologically, she interpreted ethnographies as being about observing people in their natural settings, immersing oneself into their community.
Importantly, ethnographies also empower participants – allowing them to do research in their own time, in their own space.
Georgina's case study involved her sharing the outcome of video ethnography interviews with 21 kids living on the street, conducted by 7 street workers, who she characterised wonderfully as "great ethnographers"!
A direct and moving summary video of this work is currently being used educationally amongst a range of stakeholders to great effect – in workshops with police forces for example.
Finally, she touched on an ongoing effort to capture a fuller picture by staying in touch ethnographically over time. A structured case study is currently in progress for a 1 year period, whereby monthly reflections are submitted quarterly.
Happy Thinking People's Edward Appleton stressed how tools from the commercial world of research have increasing relevance for Non-Profits as digital penetration continues apace globally. He talked about the use of Insight Communities and Mobile Ethnographies, outlining what they are, how they work, what they are for, when and where they make sense for non-profits.
He underlined how cost and convenience were common reasons for adopting online qual tools – when face-to-face options are simply not feasible.
Mobile ethnographies are useful to capture life "in-the-moment", as it happens, in particular out-of-home. These are full of visual details thanks to the video and camera functions inbuilt into smartphones. They also help plug memory gaps.
Edward touched on digital caveats: the need to check for both technical and cultural fit in a particular geography for example – in India it's very common for people to get interrupted constantly, so executing Online Communities are extremely challenging; in Indonesia participant compliance issues are common, there isn't a tradition of doing this type of research.
Following the presentations, there was a live Q&A session. The whole thing was recorded, so you can watch it on demand. 
Esomar Foundation will be continuing the series in the coming months with new webinars – so watch this space for more details!