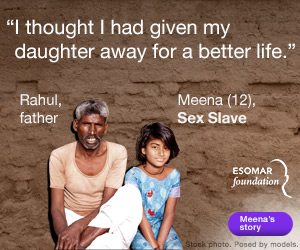 Give a chance to the most inspiring example of research for social good in action to be of help to NGOs, their causes and the world!
Submit by 16 December 2017!
Do you do Social research? Does your research contribute to understanding the human condition to better the human condition? Are you keen to showcase your unique insights to the world through an advertising campaign in 2018? The best, most inspiring and surprising example will form the basis of the 2018 advertising campaign supported by System1 advertising agency and Oath (charity arm of AOL).
Inspired by the Meena' story and willing to portray similar stories where research helped bettering the human condition, the ESOMAR Foundation is running the Research for Good Competition.
How to enter?
Fill in the entry form and send your submission by 16 December 2017!
Understanding the human condition, to better the human condition.
 In collaboration with: