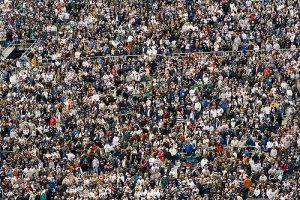 A not-to-be-missed session organised by the ESOMAR Foundation (Part 1)
On 12 September, the ESOMAR Foundation will participate with a full session on 'Making the World a Better Place' at the ESOMAR Congress 2017 in Amsterdam. Over 1,000 insight, research and data experts from all over the world will gather in Amsterdam to discuss business and societal issues and how creativity, innovation and insights can influence decision making.
The ESOMAR Foundation will take stage with a key topic that promises hope and raises important issues on "How Market Research can help the world 'Leave no one behind' *
*"This is the people's agenda, a plan of action for ending poverty in all its dimensions, irreversibly, everywhere, and leaving no one behind," said Ban Ki-moon, the UN secretary general, at the launch of the 2030 Sustainable Development Goals (SDG's)
It's 2030 and the world is celebrating the achievement of the UN's 2030 Sustainable Development Goals:
The Market Research Community is justly proud of the very valuable contribution it has made to the achievement of those Global Goals – particularly to the 'Leave no one behind' directive – and is hosting a huge party for all those involved, since the work, and its effect on the achievement of the Global Goals, has transformed the image of the industry in the last decade, demonstrating the relevance of real MR to both the Data Revolution and the CSR agenda. Graduates now clamour to join the industry, which is seen as innovative, forward looking and socially responsible
This session will be a 'call to action' both to our experts and our young researchers. Case studies will set the scene and a panel discussion will focus on:
• What can the MR Industry do to achieve this vision?
• How can we better use the data we already have and the surveys we do?
• How can we promote and demonstrate the value of Qualitative and Ethnographic data to Donors and Policy Makers?
• How can we mobilise our experts and energetic young researchers?
• How can we really make a difference?
Gunilla Broadbent, ESOMAR Foundation President and Phyllis Macfarlane, ESOMAR Foundation Treasurer, will lead the programme. Speakers and panelists representing different stakeholders (organisations, NGOs and research agencies) will animate what it promises to be a not-to-be-missed session in Amsterdam.
This is a unique opportunity for the ESOMAR Foundation to take an active part in the 70th anniversary ESOMAR Congress. Watch this space for more news on the programme. For more information contact us at: info@esomarfoundation.org