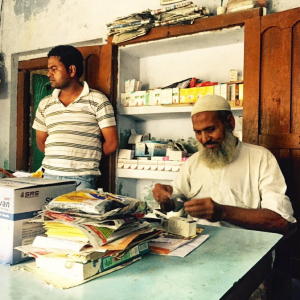 Most innovative NFP case study
REDUCING CHILD MORTALITY – A PROVIDER, A MOTHER, AND A POWDER
"Huge potential impact in India and internationally where diarrhea kills large numbers. This is a really excellent, thorough and innovative and effective piece of research"
THE ISSUE
Diarrhea is the second leading cause of death among children and dehydration is the main driver. Yet there is a simple, cheap, and scalable solution – the use of oral rehydration solutions (ORS). With a population of ~217 million people, the state of Uttar Pradesh (UP) accounts for a substantial portion of the over 200,000 diarrheal-related deaths in India. Only 30% of the children with diarrhea used ORS. In UP, 84% of caregivers of children with diarrhea seek care from a rural medical practitioner (RMPs) – informal and often non-medically trained providers in the communities. To improve the uptake of ORS, partners on the ground hypothesized that improving the RMPs access to ORS and providing them with the best treatment practices of diarrheal cases would significantly improve the use of ORS. A state-wide program of direct detailing of ORS to RMPs combined with direct messaging was initiated and scaled. However, after 3 years of investment, the levels of ORS usage among children did not improve. The objective of this research, led by Surgo Foundation, was to identify the barriers to ORS uptake and identify strategies to improve it.
A mixed method approach that combined a quantitative with innovative behavioural science methods was used to understand what was driving ORS uptake and led to develop a radically revised theory of how to increase the use of ORS to treat diarrhea in children.
IMPACT!
Instead of focusing exclusively on RMPs, programs should create demand for ORS by reframing caregivers' perception of the treatment. This would help RMPs to bridge their "know-do" gap and prescribe ORS with confidence.
Collectively, these strategies led to an increase in ORS uptake in UP from 30% to 50% in under two years. This approach to getting a deep and nuanced understanding of the 'why' before jumping into solutions has significant implications for diarrheal treatment and child mortality programs globally.
The study was designed, led, and analyzed by Surgo Foundation. On-site implementation by Clinton Health Access Initiative and RGMVP.
THE NFP ORGANISATION
The Surgo Foundation is an innovative Action Tank focused on generating transformational impact in intractable development challenges.
RGMVP- Rajiv Gandhi Mahila Vikas Pariyojana has developed a community-driven, inclusive and scalable model for poverty reduction and women's empowerment, which has grown out of a strong network of Self-Help Groups and created a chain reaction across the most populous state in India.
Help and reward RGMVP- Rajiv Gandhi Mahila Vikas Pariyojana
THE MARKET RESEARCH AGENCIES
Final Mile Consulting pioneers the practice of Behavior Architecture. We understand, explain, and influence decision-making by applying learnings from Cognitive Neuroscience, Behavioral Economics, and Design.
Ipsos "Game Changers" At Ipsos we are passionately curious about people, markets, brands and society. We deliver information and analysis that makes our complex world easier and faster to navigate and inspires our clients to make smarter decisions.