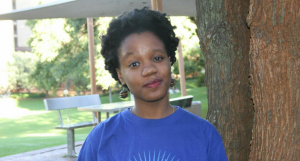 The ESOMAR foundation is actively supporting individual students from disadvantaged socio-economic backgrounds with an interest in pursuing a career in market research.
Sponsored by SSI and in collaboration with SAMRA (Southern African Market Research Association) the ESOMAR Foundation is pleased to announce the awarding of one scholarship to a young Tanzanian woman living in South Africa who is enrolled at the University of Johannesburg. This initiative falls within the scope of the ESOMAR foundation's education program whose purpose is to give financial support to individual students from disadvantaged socio-economic backgrounds with an interest in pursuing a career in market research. The scholarship has been awarded after a careful evaluation of the motivational and socio-economic background of the  applicants from an independent jury composed of experts from the market research industry.
Contribution from SSI
SSI and ESOMAR have been partnering for years for the Future Talent Meets the Industry program (FTMI), a great initiative to draw more young talent into Market Research. The program is targeting university students who are interested in our field of activity, the FTMI being a great career opportunity for them.
But what happens with the young talents whose socio-economic backgrounds prevent them from reaching their full potential? With this in mind, we decided to step up and offer a young student, who otherwise wouldn't be able to pursue a better education, the opportunity to do so. This time it was the ESOMAR Foundation who facilitated the process and it has been great to work together with them and SAMRA.
We are proud to offer this scholarship to a young and talented lady like Nicolin who has managed to come so far and achieve so much despite challenges that would have discouraged the most of us. For her, this is much more than a career opportunity, as it is first of all a chance to accede to a better life.
Sarina Saru – Marketing Coordinator, Europe at SSI
Contribution from SAMRA – Southern African Marketing Research Association
Imagine being a bright young student with an exceptional talent and a passion for learning about and doing market research. Now imagine travelling 4 hours every day using overcrowded, unsafe and unreliable public transport to and from university to attend class. Working nights and weekends as a waiter, domestic worker or gardener to self-fund your studies. Graduating a year late, because your income did not cover your tuition fees and your final bill could not be settled when you successfully completed your degree a year before. Getting accepted into a post graduate program, with the prospect of not having enough money for transport, or books, or tuition fees, or accommodation, or food.
Put these scenarios together, and you will understand the difference a postgraduate scholarship will make to the life of a deserving young student in South Africa.
Leonie Vorster – SAMRA Chief Executive Officer
The beneficiary  – Nicolin Byansy Mamuya
"I am a hardworking, driven and self-motivated young lady who one day hopes to be a successful Marketing Manager, leader and entrepreneur. I am not fortunate enough to come from a wealthy family which means I fully comprehend the significance of working hard to make it in life".
Nicolin is 3rd year student in Marketing management studying at the University of Johannesburg. Nicolin's objective is to become an excellent Marketing Manager specialized in strategy marketing and brand building, her strong ambitions is also represented by the fact that she would like to become an entrepreneur in the field of market research.