The ESOMAR Foundation is incredibly excited to see you at ESOMAR Congress. The ESOMAR Congress has been at the forefront of showcasing data, research, and insight innovation for over 70 years, and 2019 is no exception. So that you know what Foundation activities are going on during the Congress, here is a list of the things we have prepared.
This year, the ESOMAR Foundation is organizing an exciting fundraising charity bicycle ride in the surroundings of  Edinburgh. This inaugural fundraising charity bike ride is an activity where charitable fundraising, sporting excellence and healthy living are combined to create a unique experience for everyone involved. Sign up and use your pedal power to cycle and help fundraise for impacting the life of three market research hopefuls!
The same as last year, ESOMAR Foundation has dedicated an entire session in the programme. The winners of the second edition of our Making a Difference Competition will take to the stage to showcase how the best of research has made a significant difference to Not-For-Profits. On Tuesday 10 September, you're invited to the Amplifier stage to listen these stories.
Also on Tuesday, the Foundation will host a special seminar dedicated to all the charities and NGOs that would like to get introduced to our industry. If you are interested to learn more, download the Research-for-Charities Brochure and share it with your Not-for-profit contacts.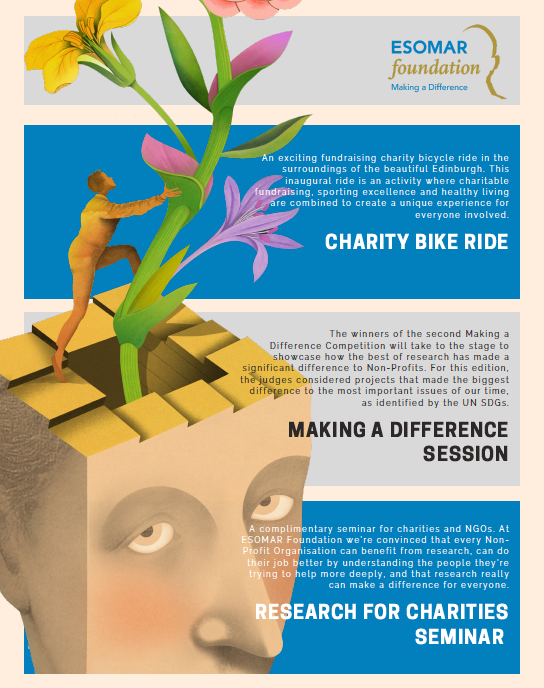 The ESOMAR Foundation President and board members will be there too, so do not hesitate to reach out to learn more about the work and plans for the future.
Looking forward to seeing you in Edinburgh!
The ESOMAR Foundation team