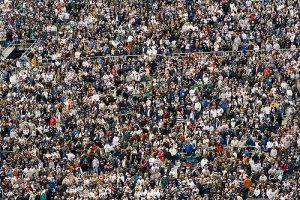 A not-to-be-missed session organised by the ESOMAR Foundation (Part 2)
How engaging and fundamental this can be! We have recently written about the special session that the ESOMAR Foundation will hold on 12 September at the ESOMAR 70th Anniversary Annual Congress. While ESOMAR celebrates its anniversary, the Foundation looks at the essential area of society which refers to eradicating poverty and leaving no one behind.
The market research industry has a wealth of knowledge and expertise that can be applied to every aspect of society to ensure a more transparent, reliable and sustainable world. Market researchers are great believers of applying their skills and knowledge to do social good, so we already know that we can count on their participation and involvement in the discussions. It's a golden opportunity to mobilise forces within the industry and reach out to NGOs and all interested parties. The aim is to create synergies and cooperation to make the world a better place!
Here is the programme:
From Village to Virtual Reality
How behavioural research has transformed the Red Alert approach to prevention of sex-trafficking in India
Hannah Surabhi, My Choices Foundation, India
My Choices Foundation exists to give women and girls in India the choice to live lives free from abuse, violence and exploitation. It does this by addressing two of India's most pervasive and intractable issues: Domestic Violence and Sex Trafficking. Their anti sex-trafficking work through Operation Red Alert is leading the prevention movement in India, and has become an international pioneer in its technology-driven approach. The presentation will cover how My Choices is applying the findings from their research (that employed learnings from cognitive neuroscience and behavioural economics) to understand and influence the behaviour of families at high risk to sex-trafficking.
Using Qualitative research to develop and understand the impact of media content in difficult contexts – Afghanistan, South Sudan and Somalia
Sonia Whitehead, BBC Media Action, UK
BBC Media Action is the BBC's international development charity who use the power of media and communication to help reduce poverty and support people in understanding their rights. Sonia Whitehead will summarise how they have used qualitative research to both inform the development of TV and Radio programmes and understand their impact. Work will be presented from countries such as Ethiopia, Afghanistan, South Sudan and Somalia.
 "I am one in a million" – Respecting street children's realities
Georgina Day, Streetinvest, UK and Flora Somogyi, BigSofa, UK
StreetInvest is a global charity that exists to improve the lives of street children. StreetInvest believes that participatory research and data collection are an integral part of developing successful programmes on the ground and national and international policies and legislation. StreetInvest and Video Analytics Company, Big Sofa, will share how they have used rich qualitative video data from ethnographic research, to generate insights into this marginalised and often invisible population, and how they hope to go beyond informing stakeholders, to influencing change in the way interventions are designed.
Paragon Partnership with Save the Children UK – Early progresses and lessons
Alexis Le Nestour, Save the Children, UK
The Paragon partnership connects market research agencies with NGOs to provide support on research. Paragon is supporting Save the Children UK in its research on adolescent girl nutrition and child marriage in Western and Central Africa. The presentation will provide more details about the progresses made and how it complements the type of research done by SCUK. Lessons for NGOs and market research agencies that wish to engage in common research project will be discussed.
How can we make a difference?
The presentations will be followed by a Panel discussion including the above speakers as panelists and with the participation of  Steve Kretschmer, Managing Director of the Surgo Foundation. Topics to be tackled during the panel discussion are:
What can the MR Industry do to achieve this vision?
How can we better use the data we already have and the surveys we do?
How can we promote and demonstrate the value of Qualitative and Ethnographic data to Donors and Policy Makers?
How can we mobilise our experts and energetic young researchers?
How can we really make a difference?
The session will be led and moderated by Gunilla Broadbent, ESOMAR Foundation President and Phyllis Macfarlane, ESOMAR Foundation Treasurer,
This is a unique opportunity for the ESOMAR Foundation to take an active part in the 70th anniversary ESOMAR Congress. Watch this space for more news on the programme. For more information contact us at: info@esomarfoundation.org